GANGRENED 'We Are Nothing' Cassette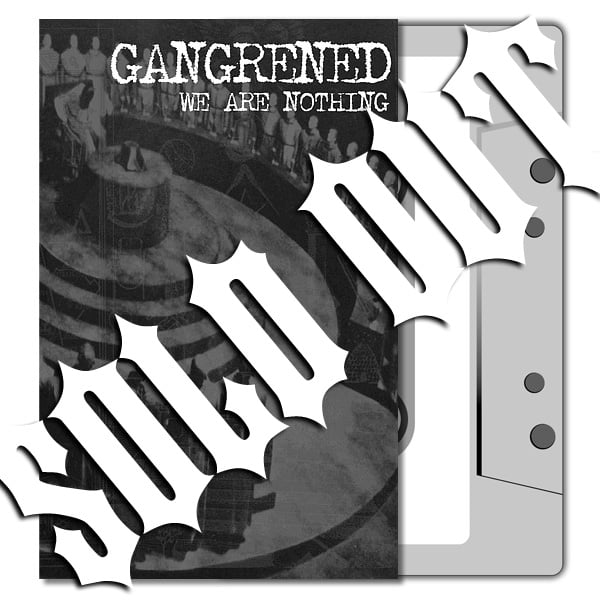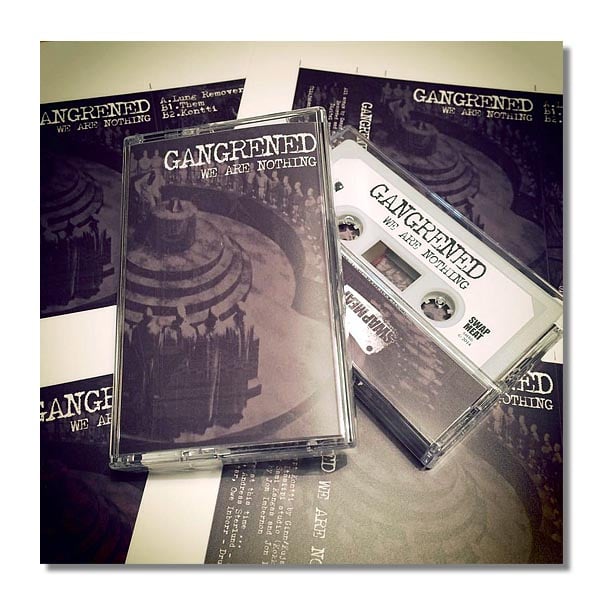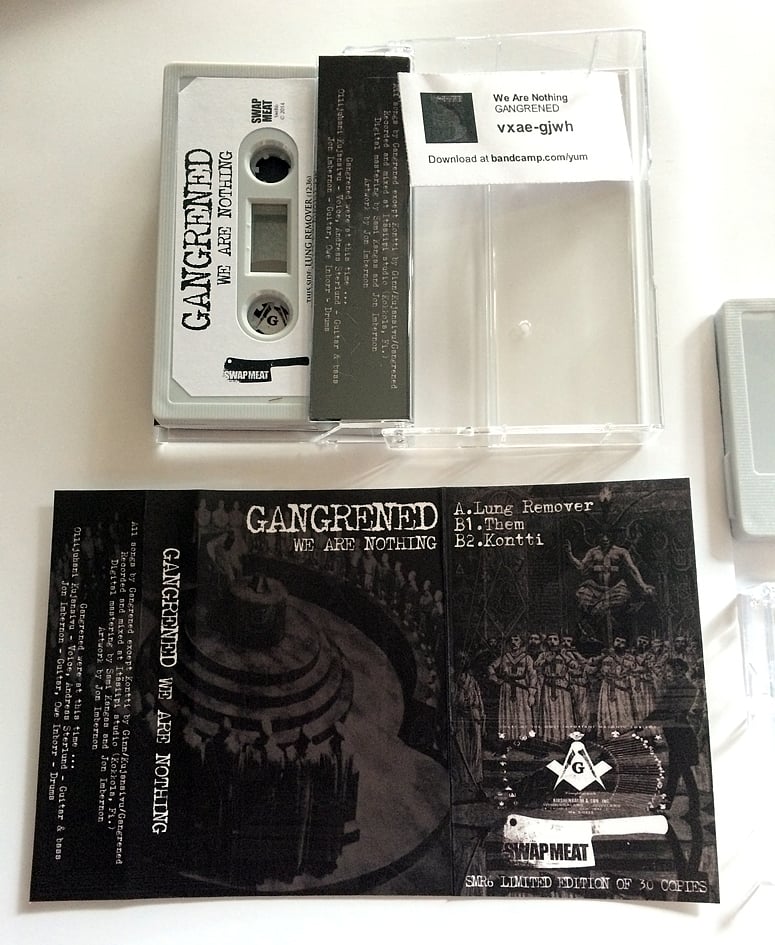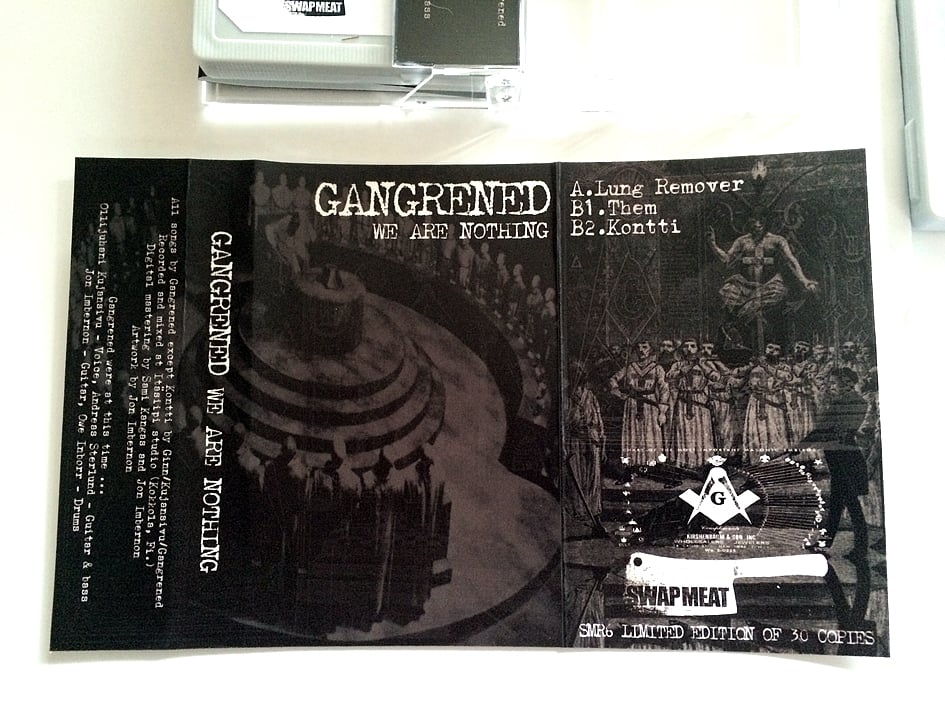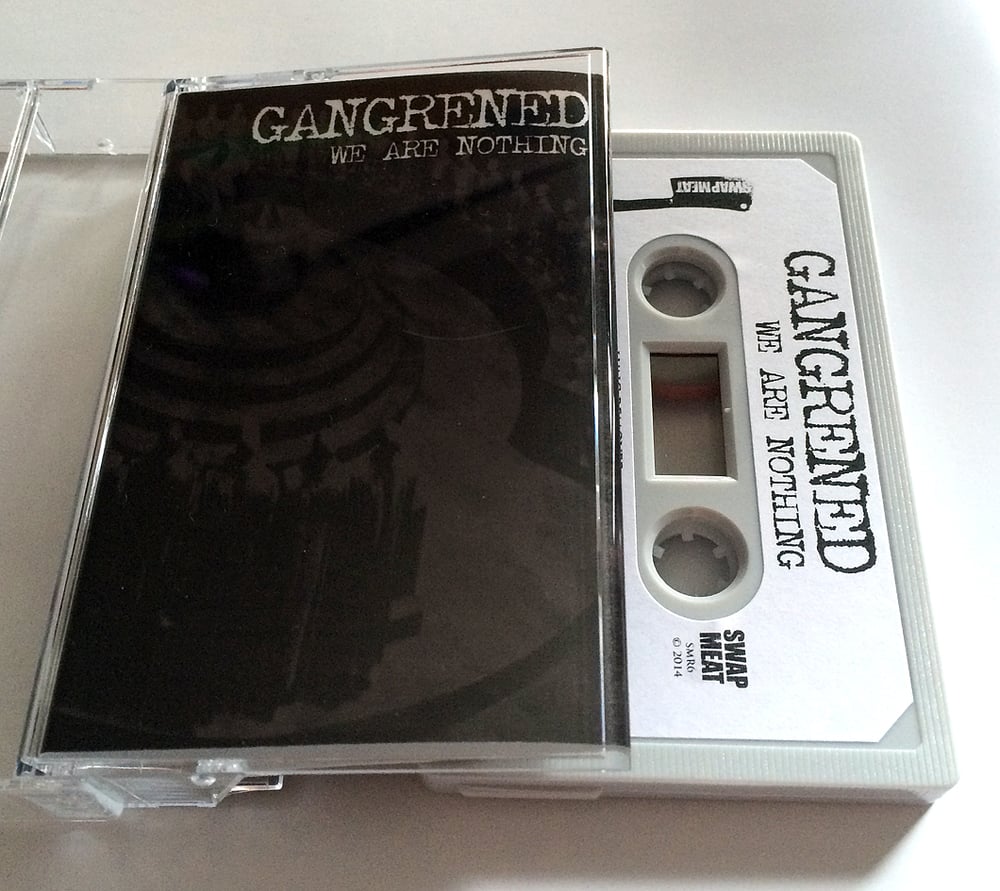 artist: GANGRENED
title: 'We Are Nothing'
catalogue # SMR6
formats: Cassette & MP3
label: Swap Meat
Tracklisting
A. Lung Remover (12:36)
B1. Them (8:28)
B2. Kontti (3:57)
Tape comes with a complimentary download code. The sixth release on RS offshoot label Swap Meat. One off limited edition of 40 hand numbered copies with grey tapes shells.
To download this release digitally, please visit the Riot Season Bandcamp site
Buy digital from Bandcamp
Release Info :
After a split tape with the Spanish band Hipoxia, released through 9 labels across Europe in September of 2013, Gangrened comes now with their second record: "We Are Nothing". 3 songs bringing their heaviest material to date.
Title and artwork of the record refers to how many of the most influential members of the worlds economic and politic elites gather together, high on the conscience of their privileged condition, in secret societies (Free Mansonry, Skull and Bones, not fucking Iluminatti that is an invention to distract the attention from the real ones) unleashing their most pervert and occult desires while they are designing and imposing a "fenced" life in a "fenced" society to the rest of the common population. We are nothing.
Kicking with "Lung Remover" it falls over you like the heaviest hammer of monolithic doom you could ever imagine. "Them" is the sludgiest passage of the record ending in a madness of a heavy d-beat part full of evilness. Then as last track comes "Kontti", a really original sludge revision of the classic of Black Flag "Six Pack". Kontti means 24 pack in Finnish slang, cuase more is more and heavy is HEAVY. In resume: 23 mins. of total heaviness and filth.