ULTRAPHALLUS 'Sowberry Hagan' CD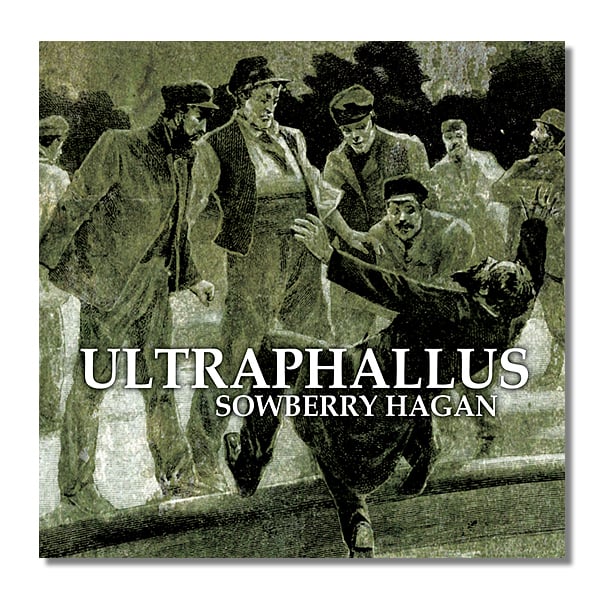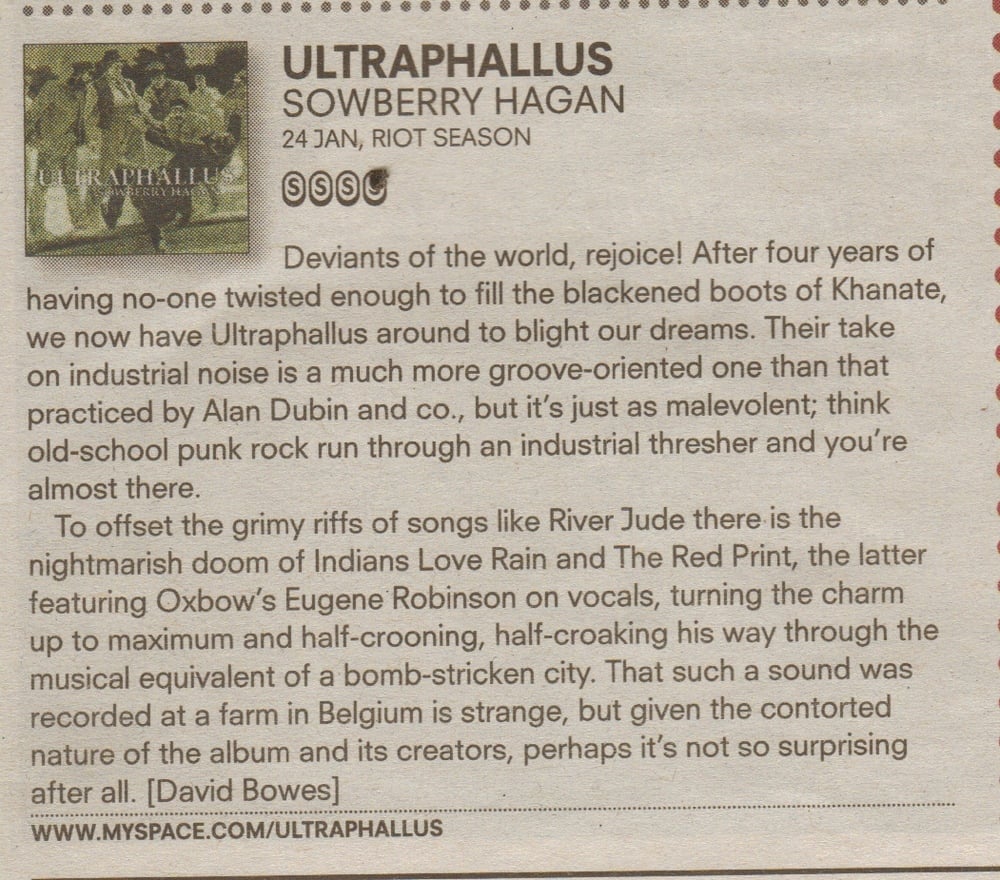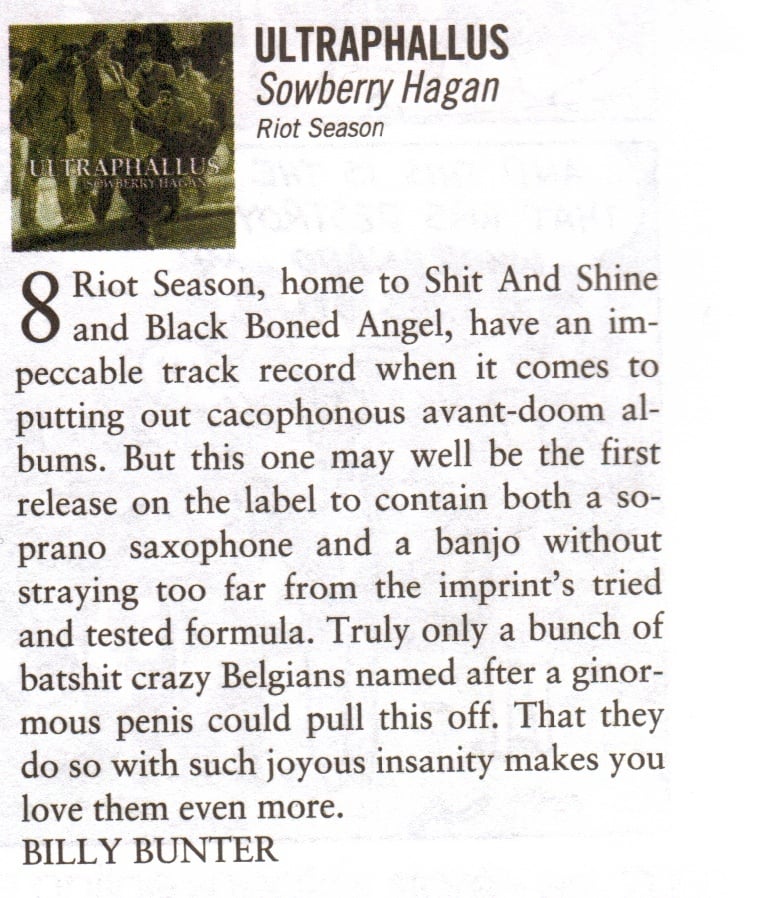 How to place an order :
1. Click on the 'select option' tab, choose what you want from the list
2. Click 'add to cart', it's now in your shopping basket
3. If you want multiple items, just go to the relevant release pages and add anything else you want to your cart before going to checkout
4. Done adding stuff?, then go to cart, that little trolley thing top right
5. Check out, it's a simple as that
Now i'll get busy packing and posting it.
Thanks! Andy/RS
CUSTOMERS OUTSIDE THE UK PLEASE NOTE : All non UK shipping prices are for standard airmail only. This does not include any tracking or insurance. If you want to upgrade to registered shipping please click on the OPTIONAL REGISTERED MAIL ADD ON (OUTSIDE UK ONLY) to your cart before you checkout and pay for your order. All you need to do is add it to your shopping cart as you would any other item, and that £5.00 will cover the cost of upgrading your order to registered mail.
artist: ULTRAPHALLUS
title: 'Sowberry Hagan'
catalogue # REPOSECD026
formats: CD

CD Tracklisting :
1. Pathological Freemind Verse (2:17)
2. Right Models (1:59)
3. River Jude (2:41)
4. Indians Love Rain (6:52)
5. Suspence BIRD / HUMAN (1:47)
6. Cinghiale (2:53)
7. The Crumbled (0:12)
8. Golden Fame (5:44)
9. The Loss Of Their Teeth (1:22)
10. The Red Print (8:40) Featuring Eugene Robinson (Oxbow)
11. Torches Of Freedom (6:16)
Release Info :
The band, formed in Liége in 2004, and after a succession of album releases and high profile European tour slots they are back with their third album and a new sound.
Sowberry Hagan was recorded in just four days in a farm near Liége. The album combines their well-honed sound of cacophonous guitar riffs juxtaposed with hypnotic, ambient doom whilst also experimenting with new sounds. By introducing new instruments to the fold including banjo, alto and soprano saxophones, and other instrumental samples, Ultraphallus have reinvented themselves and are crafting their very own new definition of doom. They have certainly pulled out all the stops for Sowberry Hagan as they have also recruited the help of special guest Eugene Robinson (Oxbow) who carries his trademark, talented voice for an epic eight minute ambient-rock track. The result is an album more dark and more encompassing as ever before.
If you have yet to be consumed by Ultraphallus' atmospheric sounds then this is a good place to start.
Mastered by James Plotkin
www.ultraphallus.com
Reviews ...
TERRORIZER "Their sense of humour appears as ribald as the depth of their taste for screwed 'n' chopped Melvins-esque metal; certainly, Ultraphallus are a band born to release product on the Riot Season label, continuing the sterling work of units like Hey Colossus, Circle and Shit And Shine. You're as likely to navigate an imposing tower of riffs – 'Indians Love Rain', 'Golden Fame' – as a depressing and arid field of grey static and broken gear like 'Cinghiale'. 'Sowberry Hagan's longest track, 'The Red Print', has its waves of uneasy space-rock vocalised by Oxbow's Eugene Robinson; he plays a blinder, as per usual."
FREQ "Sounds like that very specific moment when you know that the fever has left your body and all you feel is exhaustion and relief...Nasty, nasty, nasty...and fantastic."
THE LINE OF BEST FIT "An exhilarating thrill-ride into the unknown that makes our hearts beat faster and gives us a feeling of light-headedness as neurones fire us into something approaching happiness. Sowberry Hagan is justifiably, heroically brave."
MASS MOVEMENT "Ultraphallus churn out the kind experimental noise that runs like the soundtrack to a zombie apocalypse. Disjointed and dark; ferocious and feral"
ECHOES AND DUST "Sowberry Hagan is terrifying, like an all-too-real nightmare, excellent from start to finish."
ALTERNATIVE ULSTER "The 40 or so minutes of Sowberry Hagan is a vicious and unrelenting journey, yet a progressive one too. In a genre that has become almost devoid of personality or difference, its certainly refreshing to hear a modern doom act incorporate banjos, saxophones, samples and a host of other post-production techniques in order to create their own unique sound."
THE MUSIC FIX "Creepy, bubbling samples punctuated by the subtle groans and croons of Oxbow's Eugene Robinson make this quite a dark and harrowing piece of music, and mark out Ultraphallus as taking doom into a whole other world."
DROWNED IN SOUND "Ultimately, Sowberry Hagan might be an endurance test for anyone adverse to sprawling, manic and punishingly hard music but a rare gift for lovers of all things doom that want more balls, less formula."
COLLECTIVE ZINE "What a splendid and sumptuous thing this is. A vast, oily pool of murk that crashes blithely between thundersome, brute-force riffing, Yowish noise-rock caterwauling and introspective bouts of fizzling, nape-tingling ambience...a bizarrely triumphant confluence of sounds and styles that's as comfortable clubbing you roughly round the head with an over-sized Iommian riff as it is melting your mind with wheedling sax runs or errant banjo licks."
ATTN MAGAZINE "A solid album, is 'Sowberry Hagan', with tantalising hints of the next long player."
SKINNY "Deviants of the world, rejoice! After four years of having no-one twisted enough to fill the blackened boots of Khanate, we now have Ultraphallus around to blight our dreams. Their take on industrial noise is a much more groove-oriented one than that practiced by Alan Dubin and co., but it's just as malevolent; think old-school punk rock run through an industrial thresher and you're almost there."
HEAD HERITAGE / JULIAN COPE "There's a satanic inventiveness of presentation to this SOWBERRY HAGAN – in its cinematic presentation that pitches this record outside of categories and into 'instructional' i.e.: useful. Released on the always-fascinating Riot Season record label, it's pretty early in the year for SOWBERRY HAGAN to be setting the rock'n'roll bar so high. Gentlemen, you are to be congratulated!"