HIBUSHIBIRE 'Turn On, Tune In, Freak Out!' Japanese CD w/OBI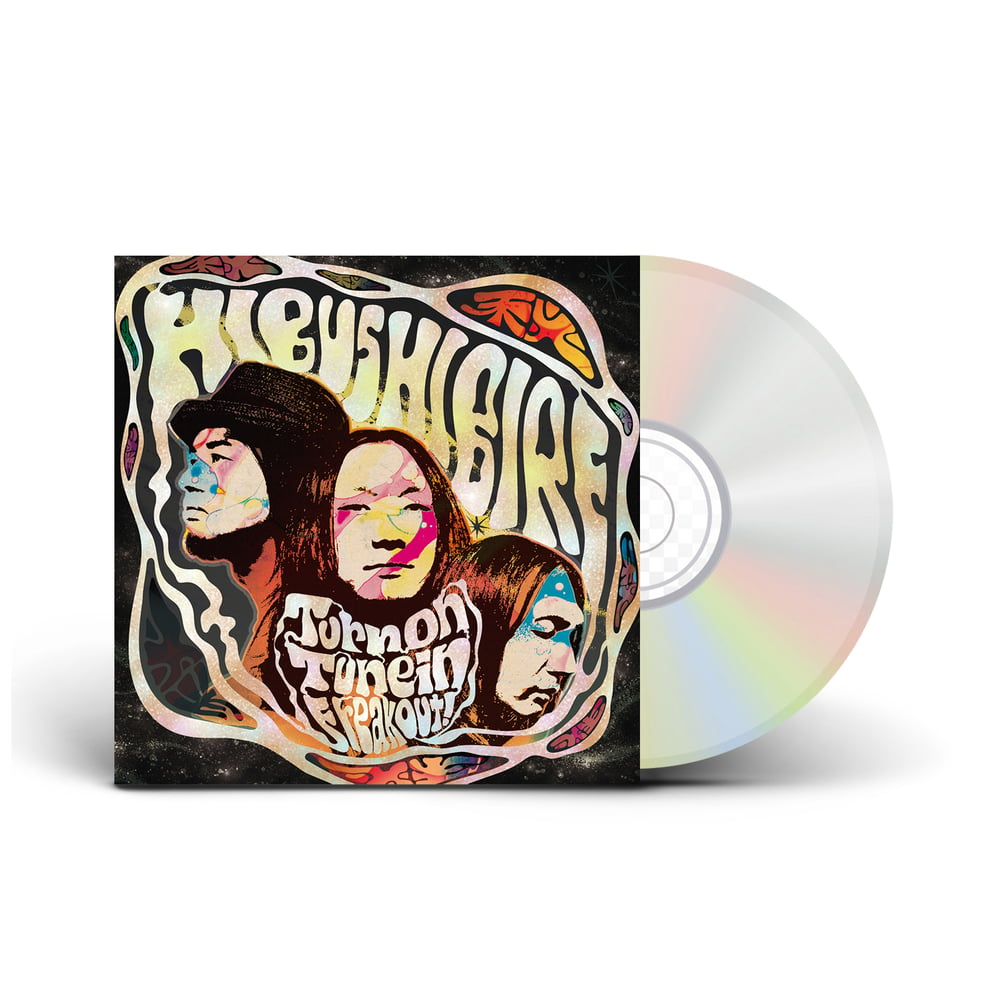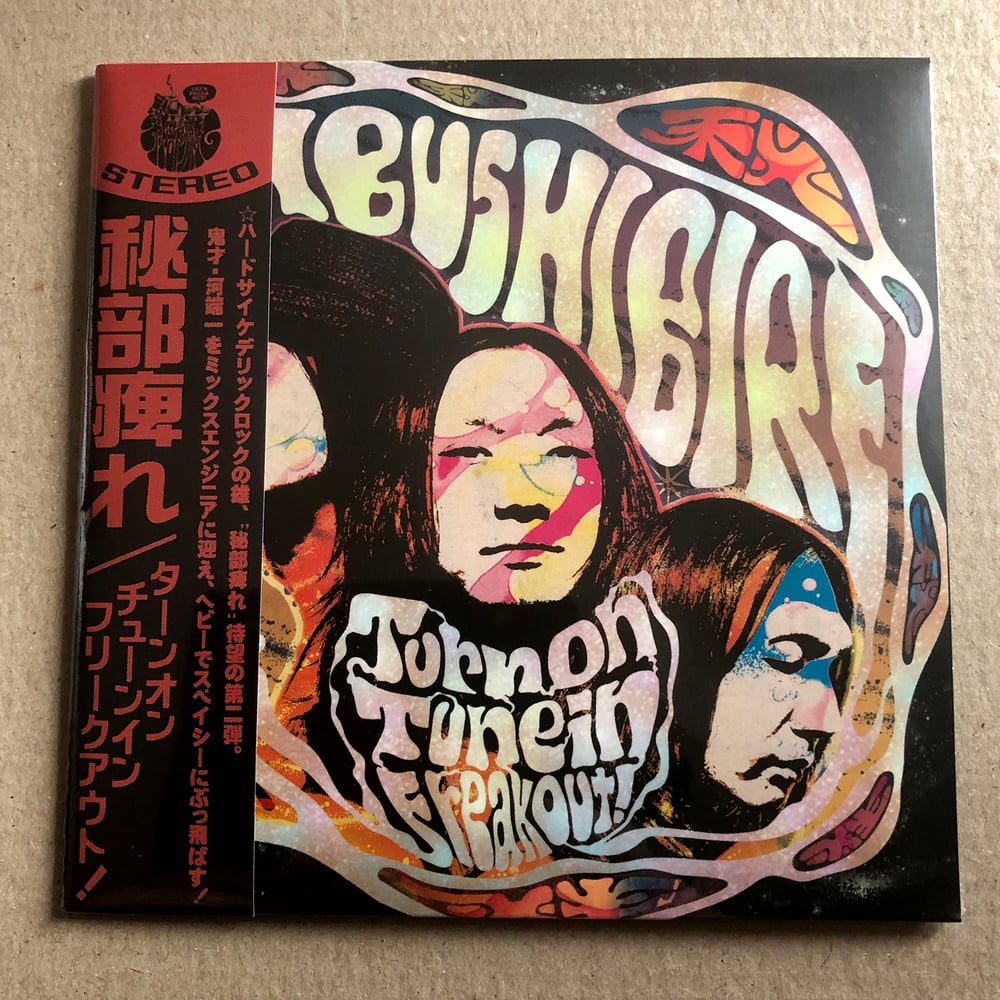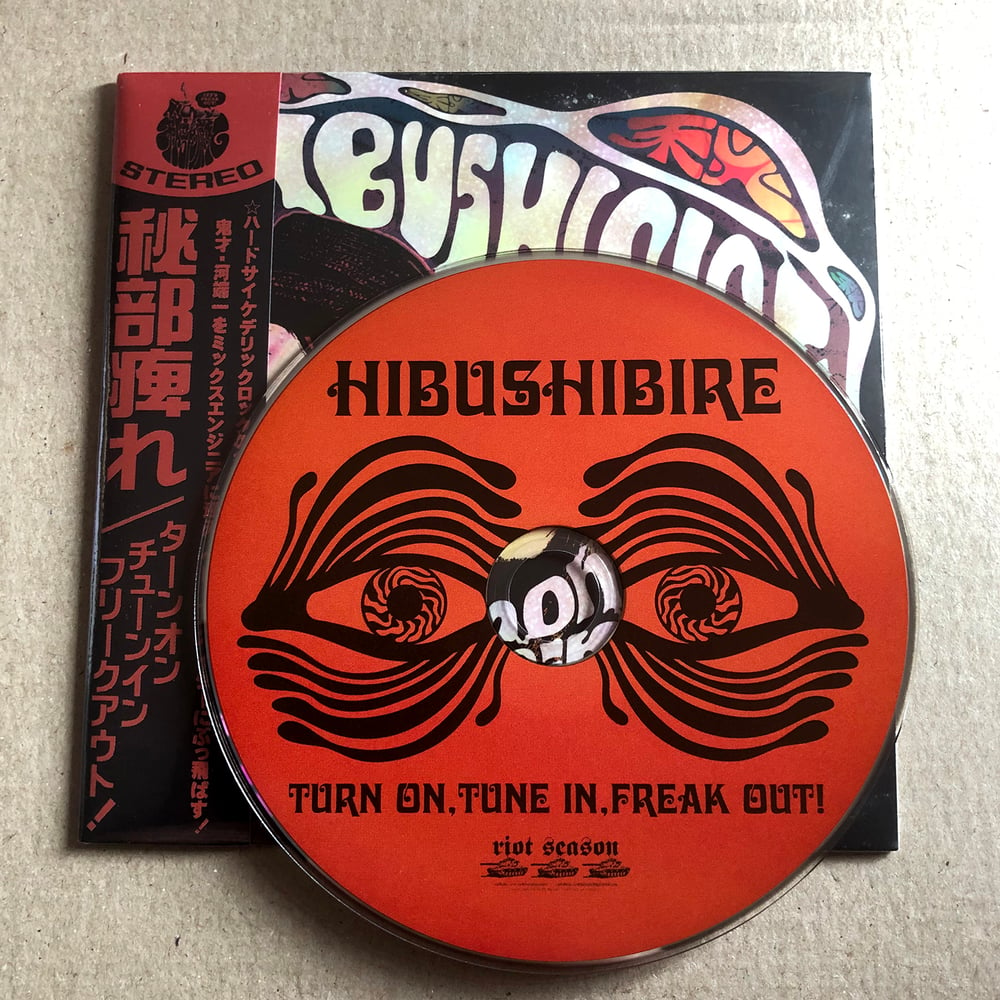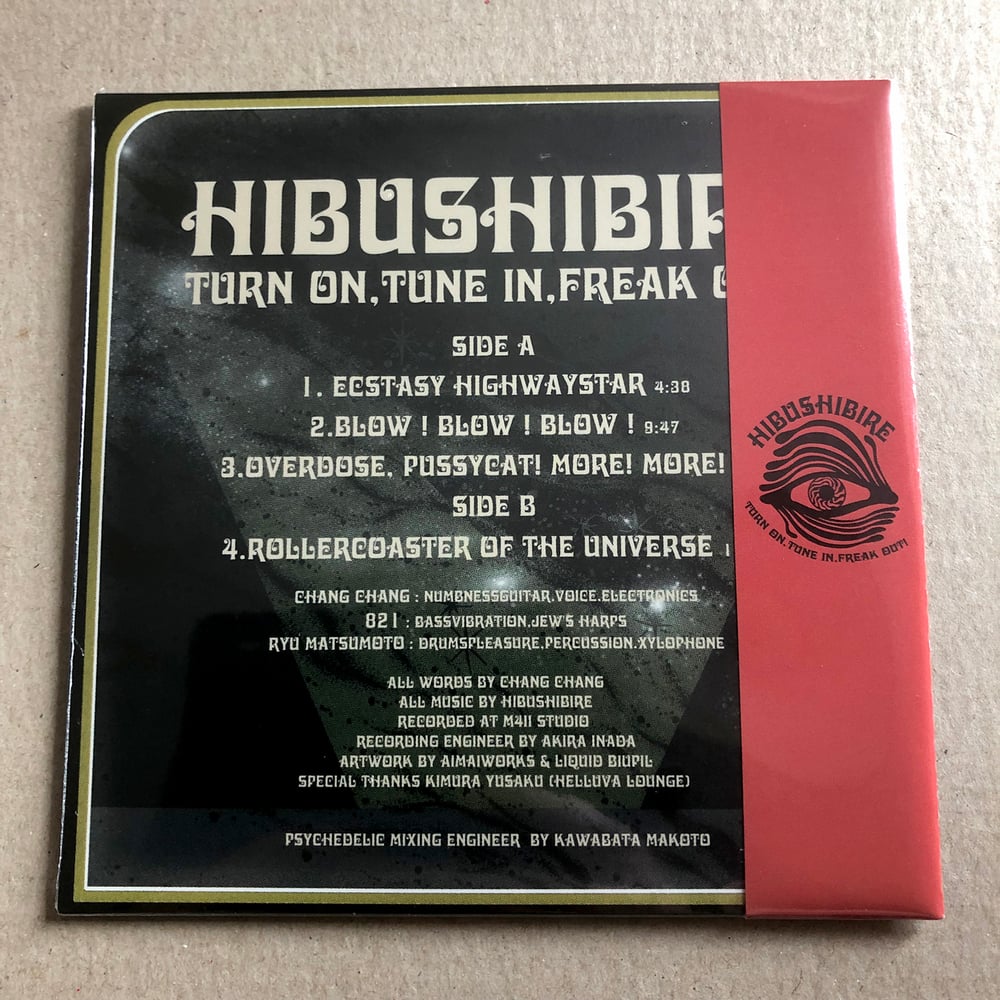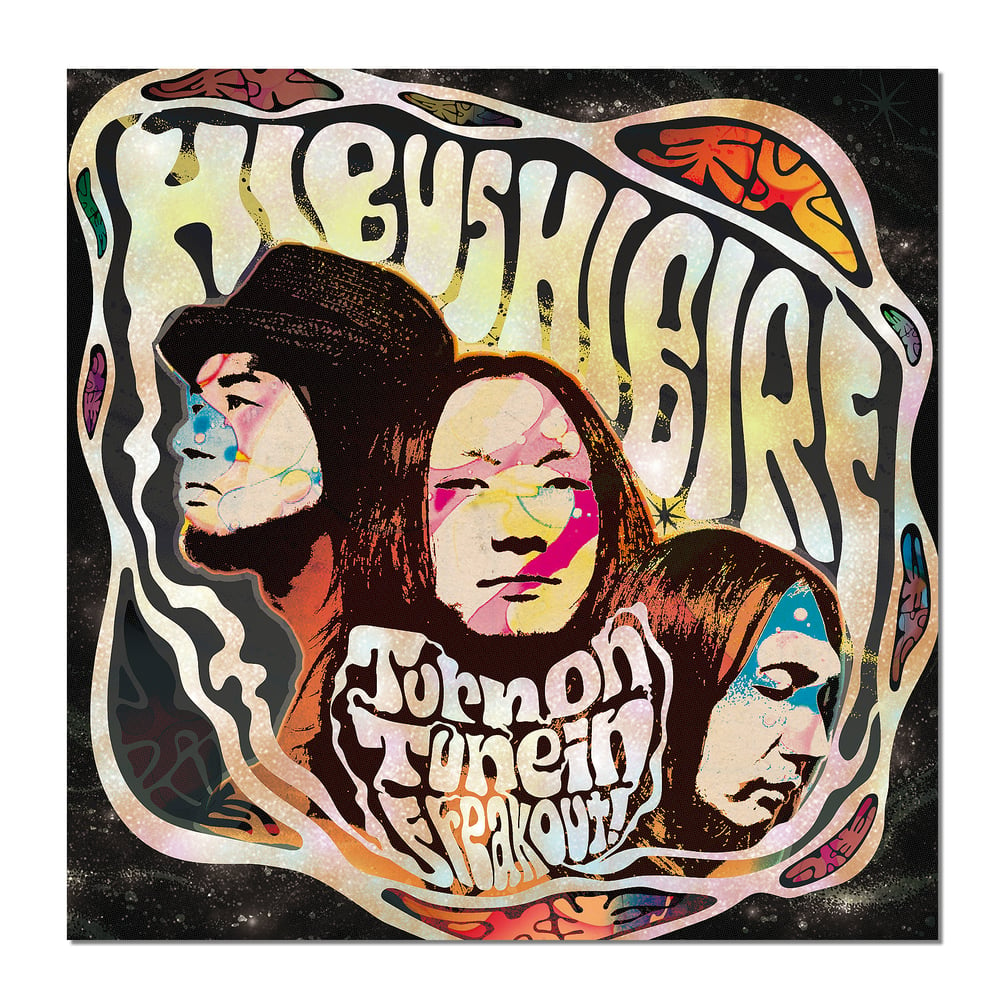 BACK IN STOCK! JAPANESE IMPORT CD. COMES IN A SHRINK WRAPPED CARDBOARD SLEEVE WITH OBI STRIP
How to place an order :
1. Click on the 'select option' tab, choose what you want from the list
2. Click 'add to cart', it's now in your shopping basket
3. If you want multiple items, just go to the relevant release pages and add anything else you want to your cart before going to checkout
4. Done adding stuff?, then go to cart, that little trolley thing top right
5. Check out, it's a simple as that
Now i'll get busy packing and posting it.
Thanks! Andy/RS
CUSTOMERS OUTSIDE THE UK PLEASE NOTE : All non UK shipping prices are for standard airmail only. This does not include any tracking or insurance. If you want to upgrade to registered shipping please click on the OPTIONAL REGISTERED MAIL ADD ON (OUTSIDE UK ONLY) to your cart before you checkout and pay for your order. All you need to do is add it to your shopping cart as you would any other item, and that £5.00 will cover the cost of upgrading your order to registered mail.
artist: HIBUSHIBIRE
title: 'Turn On, Tune In, Freak Out!'
catalogue # N/A
format: Japanese CD with OBI strip

CD Tracklisting :

1. Ecstasy Highwaystar (4:38)
2. Blow! Blow! Blow! (9:47)
3. Overdose, Pussycat! More! More! (4:04)
4. Rollercoaster Of The Universe (17:11)
The long awaited follow up to Osaka's Hibushibire 'Freak Out Orgasm!' debut album from 2017 is almost upon us ...

Who are Hibushibire ?

821 (Hani) on bass
Ryu Matsumoto on drums
Changchang on guitar and vocals

It would be fair to say Hibushibire's 2017 debut album 'Freak Out Orgasm!' went down well with fans of psych-rock (call it what you will). So far it's had three vinyl pressings, two cassette pressings and a CD run back in Japan. It garnered quite a few influential underground (if not mainstream) reviews and seemed to sell through on word of mouth alone - which in these times seems to be the way things are going: thriving social media groups sharing their love of recent purchases and fellow vinyl lovers going out and scooping them up without the need to buy a magazine or read an online review to make their mind up. My favourite review of 'Freak Out Orgasm!' came from UK based music blog Dayz Of Purple And Orange as I think he nailed it perfectly...

"Fuck me! I think I've died and gone to psychedelic heaven! If anyone had asked me what I would really want from a freak out, heavy-as-fuck psych band I would have to say I would want the sheer guitar pyrotechnics of Acid Mothers Temple, the hard-as-nails scuzziness of The Heads, the lead heaviness of a fucked-up Blue Cheer and the instrumental dexterity of Hendrix on speed. Guess what, that band exists and they are called HIBUSHIBIRE!"

That, to me, said it all. Nail hit hard.

But let's get onto 'Turn On, Tune In, Freak Out!'

Once again the album is produced by Makoto Kawabata (Acid Mothers Temple, Mainliner) and for me it's the next logical step in the bands sonic development. As with its predecessor, side one consists of three tracks, "Ecstasy Highwaystar / Blow! Blow! Blow! / Overdose, Pussycat! More! More!", (they do like an exclamation mark). Some of these titles will be familiar if you've followed the band's live shows in recent times, and it's pretty much a guitar to the front, full gonzo-style hard-rocking psychedelic freak out from the first blast of Changchang's guitar panning from left to right before the main riff kicks it all off.

Again, as with their debut, side two comprises of just one epic length track. 'Rollercoaster Of The Universe' clocks in at seventeen minutes and is, in my humble opinion, the sound of the band moving onto the next level during its journey. It's a shudderingly beautiful piece, with many hypnotic twists and turns. I can't wait to hear how they play this live.

The band did initially attempt to produce this album by themselves, but got 'brain fever' in the studio and called their old friend Makoto to come down and help them finish it off. As he had no preparation in advance, he knew nothing about how the recording was going in the studio, and moreover there was little time left for adjustments to be made. But his technique of mixing was, as always, both mighty and almost destructive.

He said to Changchang during the mixing process, "Listen carefully! I am teaching how to work magic". And he has.

The title is "Turn On, Tune In, Freak Out!". True to it's name.