ACID MOTHERS TEMPLE 'IAO Chant From The Melting Paraiso UFO' CD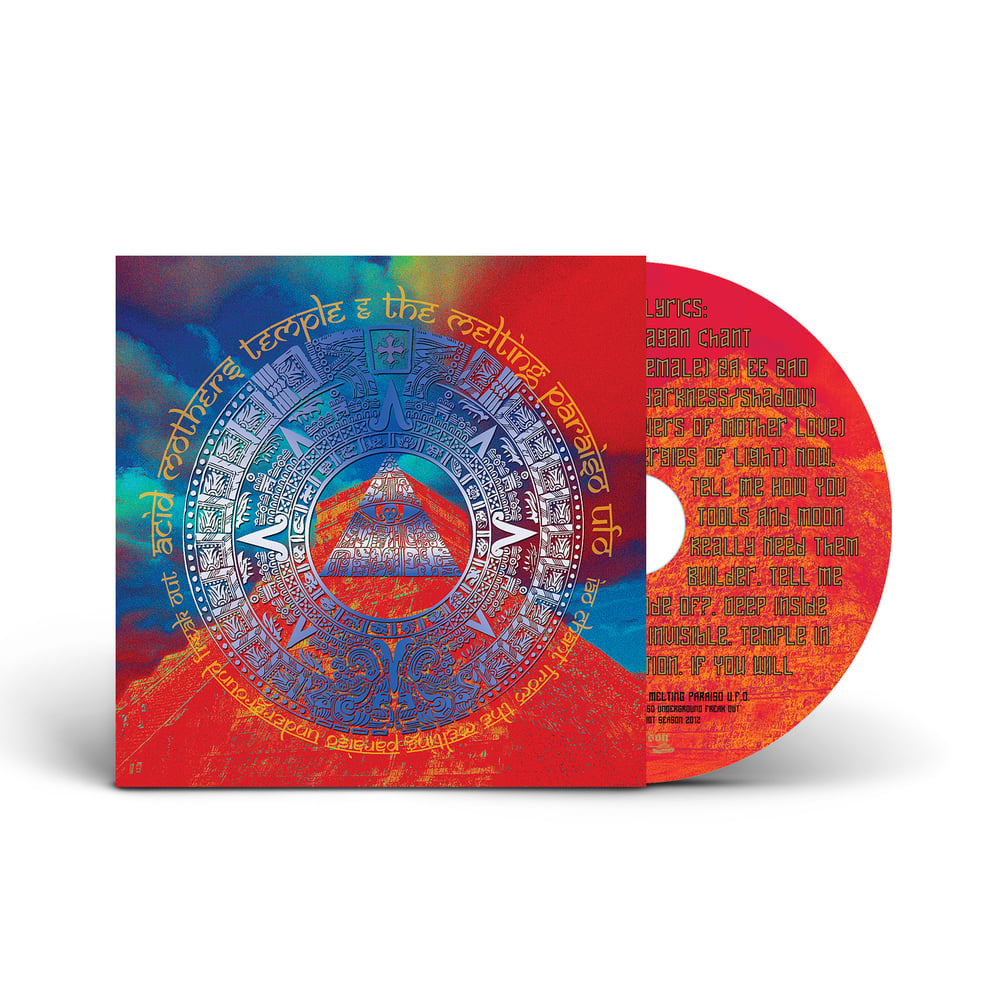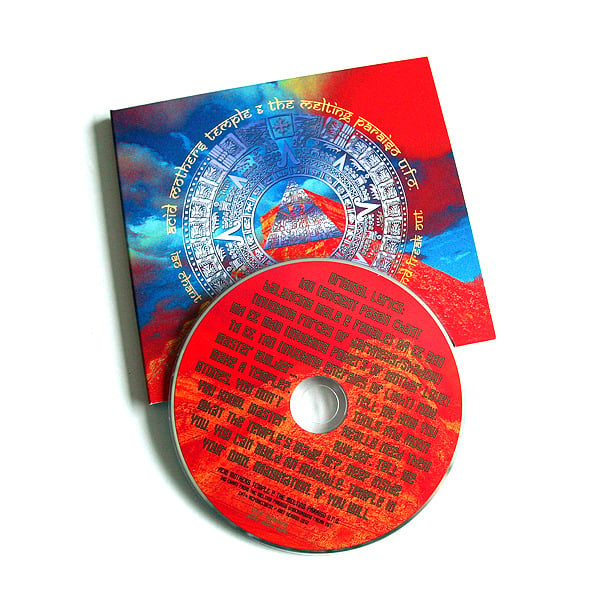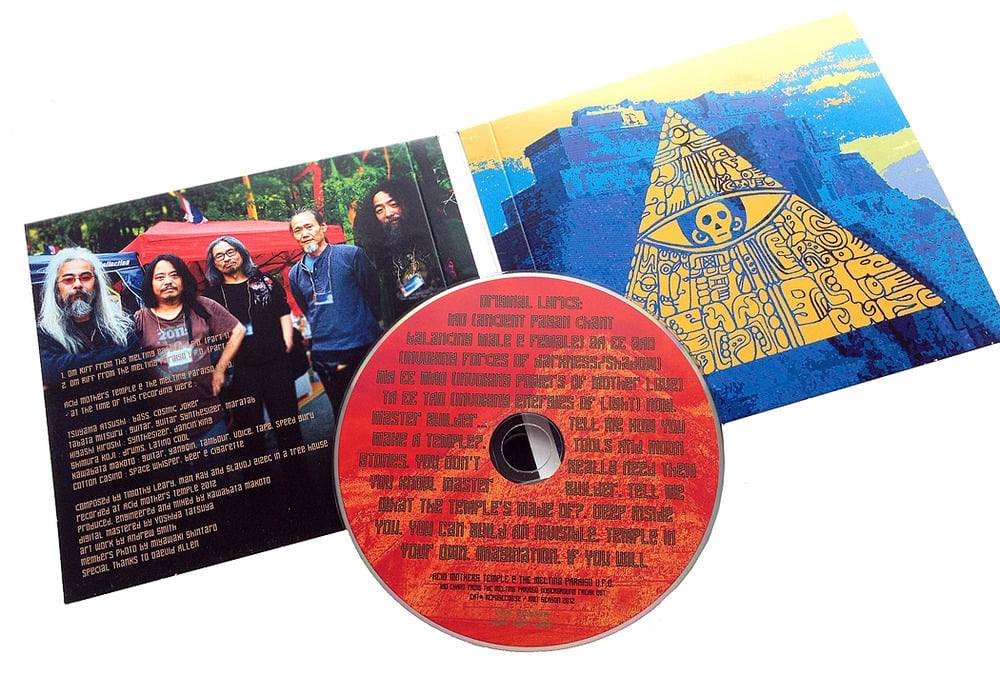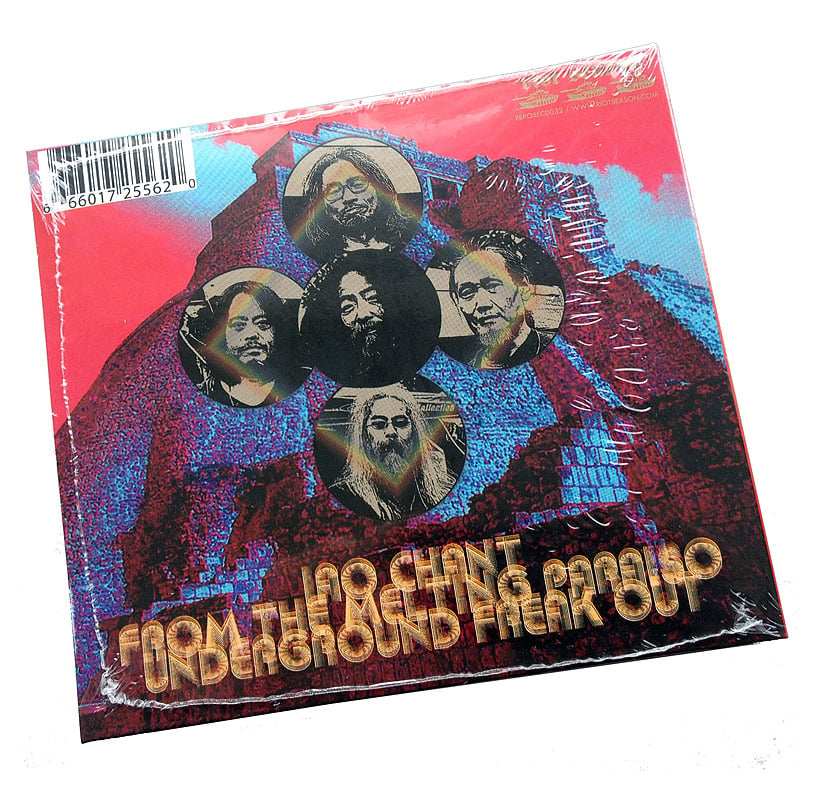 artist: ACID MOTHERS TEMPLE & THE MELTING PARAISO UFO
title: 'IAO Chant From The Melting Paraiso Underground Freak Out'
catalogue # REPOSECD032
formats: CD in gatefold card/paper sleeve
CD Tracklisting :
1. OM Riff From The Melting Paraiso U.F.O. (Part.1)
2. OM Riff From The Melting Paraiso U.F.O. (Part.2)
Release Info :
AMT return with an expanded Melting Paraiso U.F.O. line up featuring the added guitar skills of Japan underground legend, and new full time member Tabata Mitsuru.
'IAO Chant From The Melting Paraiso Underground Freak Out' finds the band revisiting the past and once again taking Gong's infamous 'Om Riff/Master Builder' to soaring new heights. This is a completely new version/recorded in a new Japan, one still coming to terms with recent catastrophic events. Split into two almost equal parts, 'OM Riff From The Melting Paraiso U.F.O. Parts 1 & 2' this is the sound of a reinvigorated AMT playing some of their most up-tempo and groove based music for some time. The laid back nature of last years acclaimed 'The Ripper At The Heaven's Gates Of Dark' opus is put firmly aside, in favour of some heads down cosmic riff heavy freak-out.
Taking the original classic work as the backbone, and stretching it out to new heights, taking on an almost Krautrock sense of repetition and sonic attack. This is definitely more akin to the much loved AMT live sound, and should appeal not only to long time AMT converts but pot headed pixies and a new generation discovering what guitar based music is all about too. File under Acid Mothers Temple, Gong, Krautrock, Psychedelia, etc etc
Also available as a coloured vinyl LP limited to 500 copies worldwide (SOLD OUT) and a black vinyl repress limited to 300 copies worldwide.
Acid Mothers Temple & The Melting Paraiso U.F.O. - at the time of this recording were :
Tsuyama Atsushi : bass, cosmic joker
Tabata Mitsuru : guitar, guitar synthesizer, maratab
Higashi Hiroshi : synthesizer, dancin'king
Shimura Koji : drums, latino cool
Kawabata Makoto : guitar, yangqin, tambour, voice, tape, speed guru
Cotton Casino : space whisper, beer & cigarette
composed by Timothy Leary, Man Ray and Slavoj Zizec in a tree house
recorded at Acid Mothers Temple 2012
produced, engineered and mixed by Kawabata Makoto
digital mastered by Yoshida Tatsuya
art work by Andrew Smith
members photo by Miyawaki Shintaro
special thanks to Daevid Allen
------------------------------------------------------------------