ACID MOTHERS TEMPLE 'Minstrel In The Galaxy' Black Vinyl LP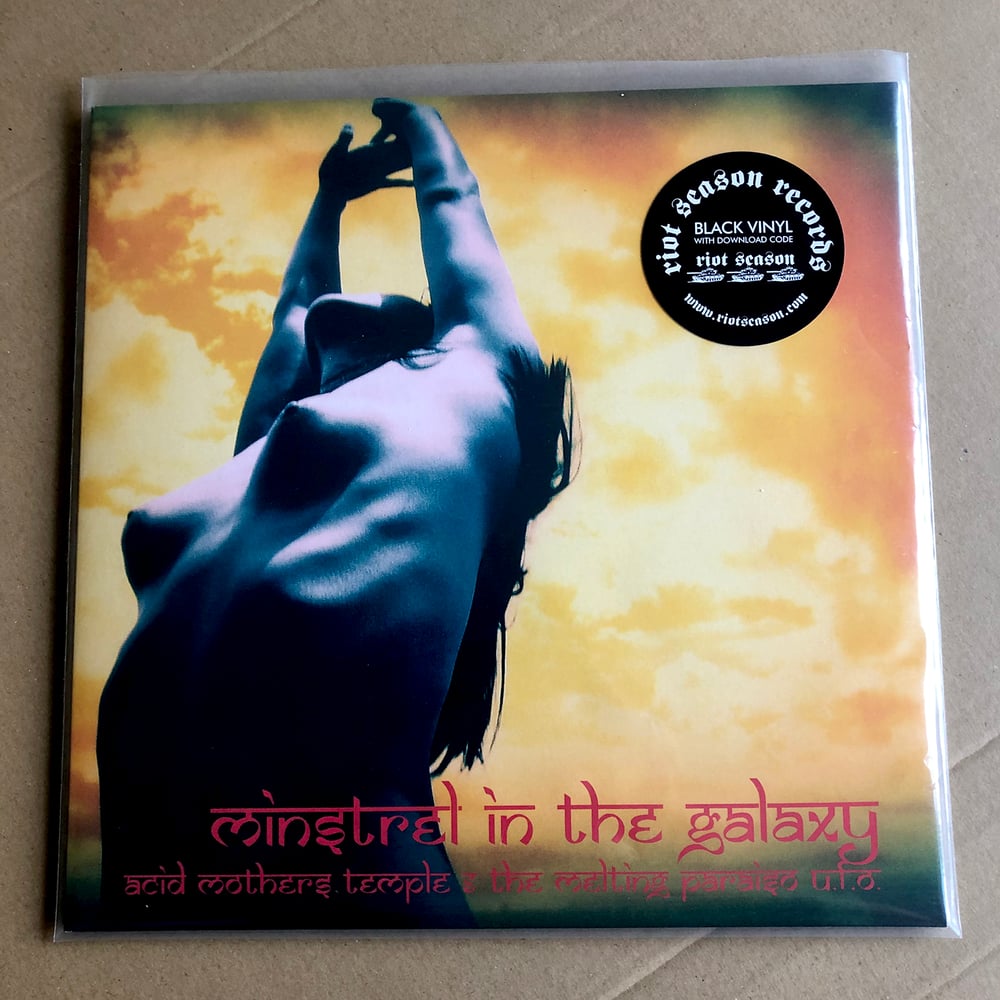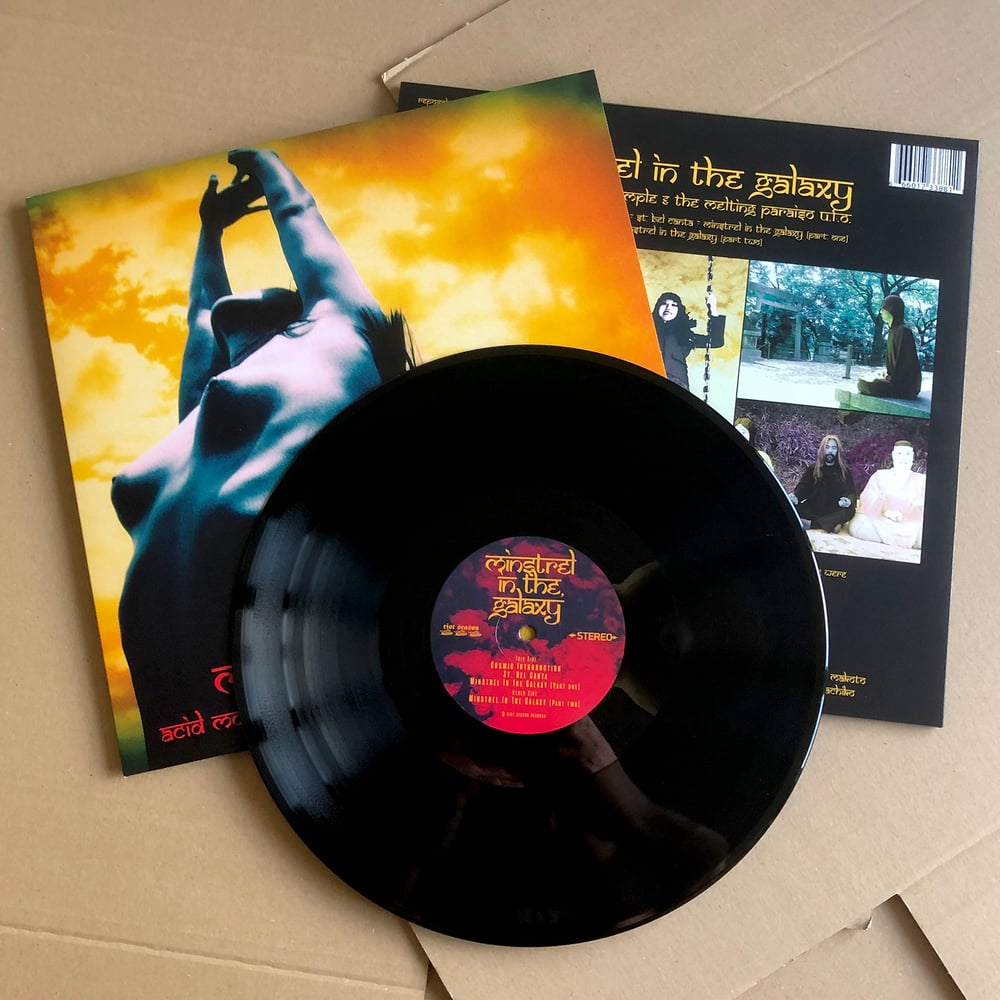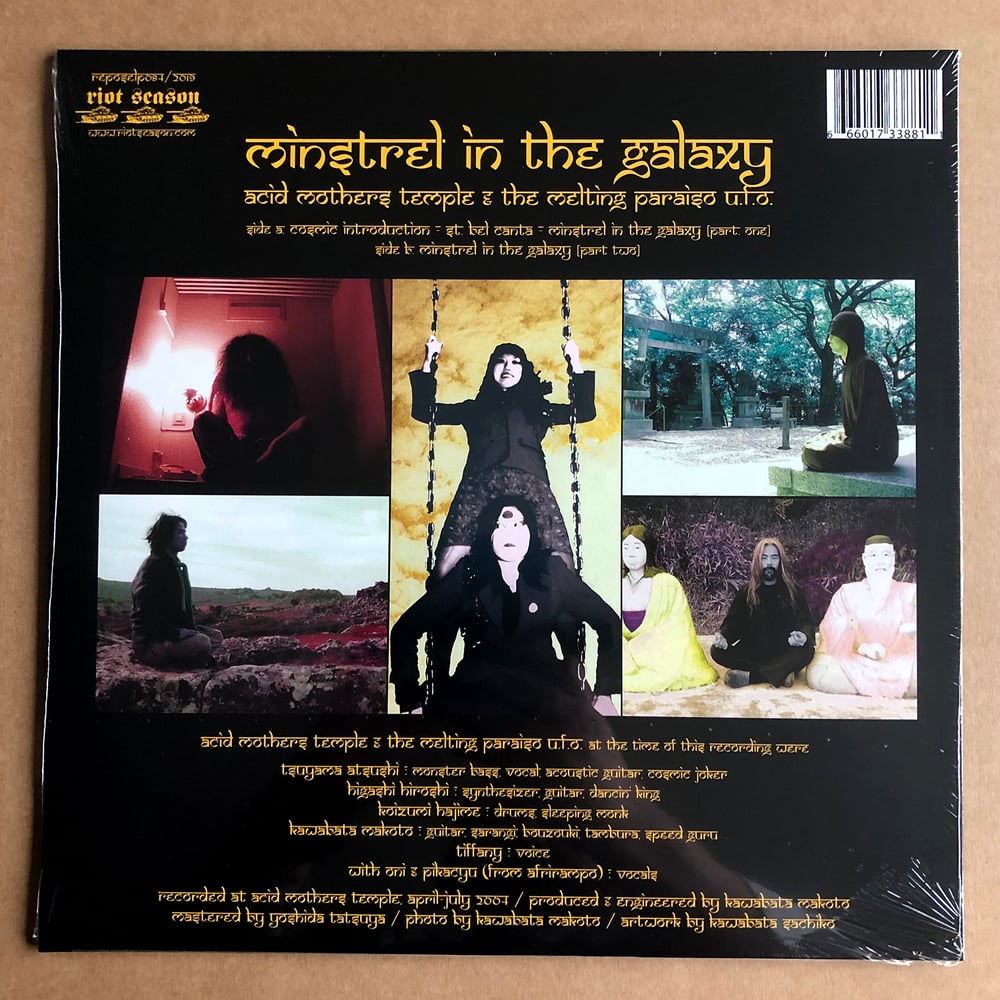 artist: ACID MOTHERS TEMPLE & THE MELTING PARAISO U.F.O.
title: 'Minstrel In The Galaxy'
catalogue # REPOSELP084
format: Black Vinyl LP

LP Tracklisting :

A. Cosmic Introduction / St. Bel Canta / Minstrel In The Galaxy Part One (17:11)
B. Minstrel In The Galaxy Part Two (19:53)

LIMITED EDITION 300 ONLY BLACK VINYL REPRESS WITH DOWNLOAD CODE

Way back in 2004, ACID MOTHERS TEMPLE & THE MELTING PARAISO U.F.O. released the CD only album 'Minstrel In The Galaxy' on Riot Season Records. The decision to make it CD only at the time was down to the epic title track being almost 42 minutes in length. Fast forward fifteen years and new technologies and we have the first ever vinyl release of this classic album, with a new edited especially for vinyl mix by main man Makoto Kawabata.

What we said back then ...

'Minstrel In The Galaxy' is the sound of the newly slimmed down four-piece AMT recorded in their smoke filled basement Studio in Nagoya during summer 2004. The sounds captured on these three tracks are the first post-Cotton Casino AMT workouts. The diminutive beer and cigarettes goddess has upped sticks and moved to the USA to start a new life and plan her solo career. We'll miss her that's for sure but we can't worry about that now, AMT have another ten albums to lay down before New Year.

The AMT line up for this album features the core trio of Makoto Kawabata (Guitar), Atsushi Tsuyama (Monster Bass), Hiroshi Higashi (Guitar & effects) and new permanent drummer (and ex-Mainliner man) Hajime Koie (Drums). The free jazz style drumming from Hajime has helped give AMT their sense of improvisation back, most of their work is improvised and recorded live to tape which gives that great loose feel they have that takes them off on tangents and makes each new record that little bit different from the last. And with this new studio album I think we can safely say it's something of a new direction.

They're joined on this album by Japanese underground queens AFRIRAMPO, who've just finished a tour with Sonic Youth and look set for big things themselves in the near future. Musically this album is a slight departure for AMT, anyone buying it expecting a head-melting riff heavy record are going to be disappointed.

To these ears 'Minstrel In The Galaxy' sounds darker and more stripped down that any previous AMT release. The title track alone lasts a staggering 41 minutes, over the course of which the band take our heads in a few gentle directions before letting rip towards it's crushing finale. For me it's the gentle openings that make me tick, I love the way it rolls for what seems like ever just going round and round in your head. You almost expect it to explode way before it does and that my friends is the art of foreplay AMT style!