HIBUSHIBIRE 'Magical Metamorphosis Third Eye' Supernova Splatter LP (Exclusive)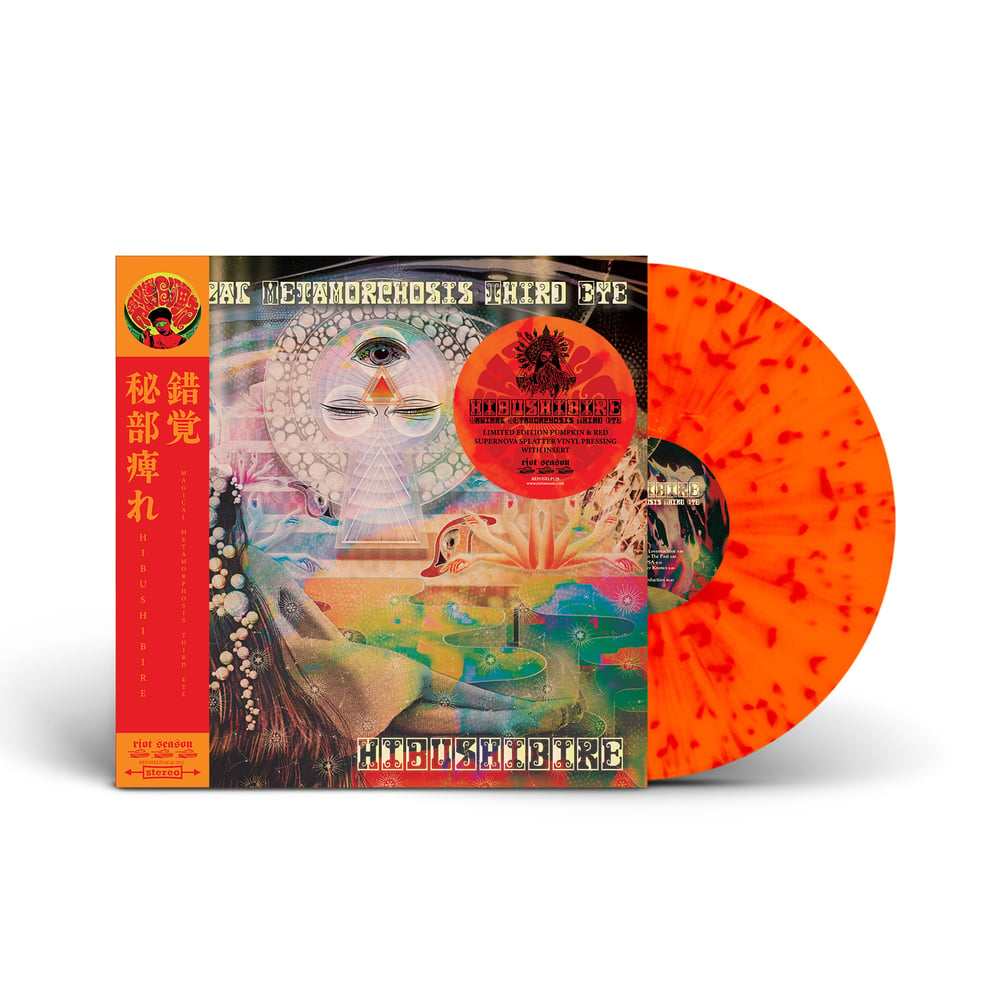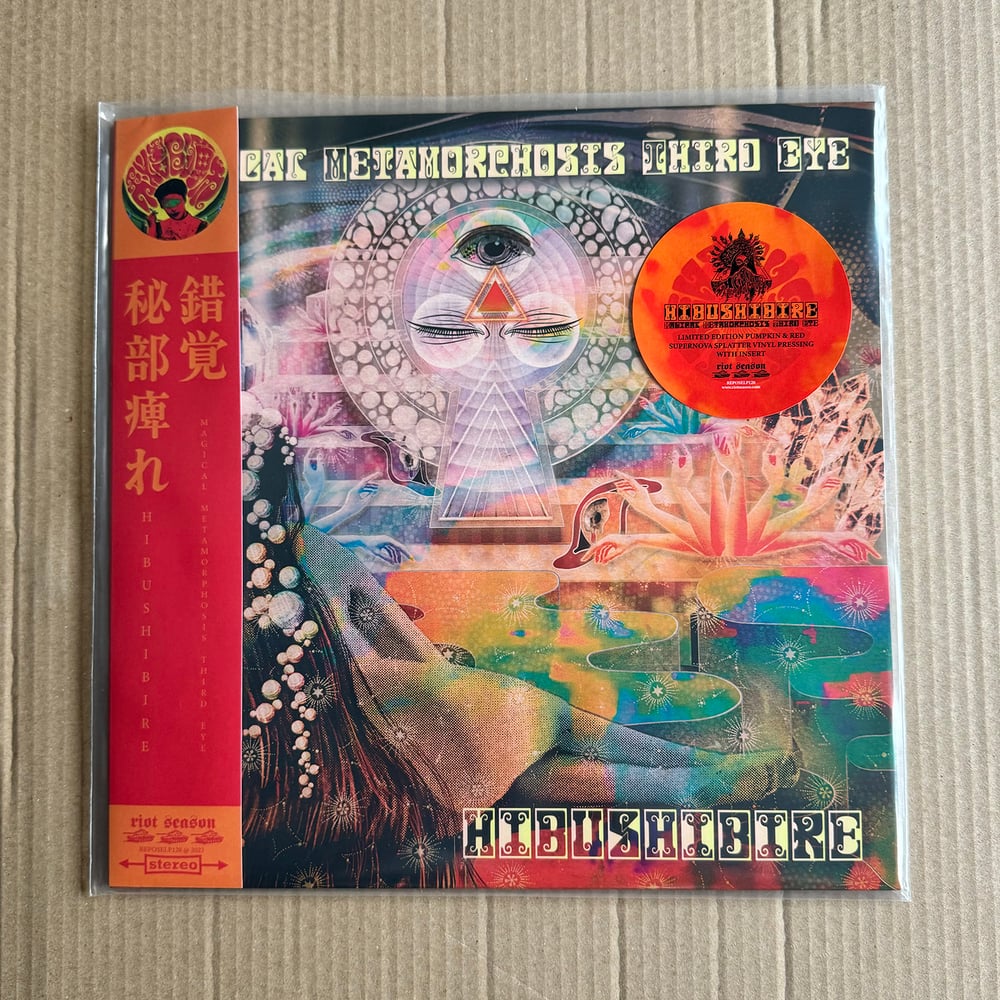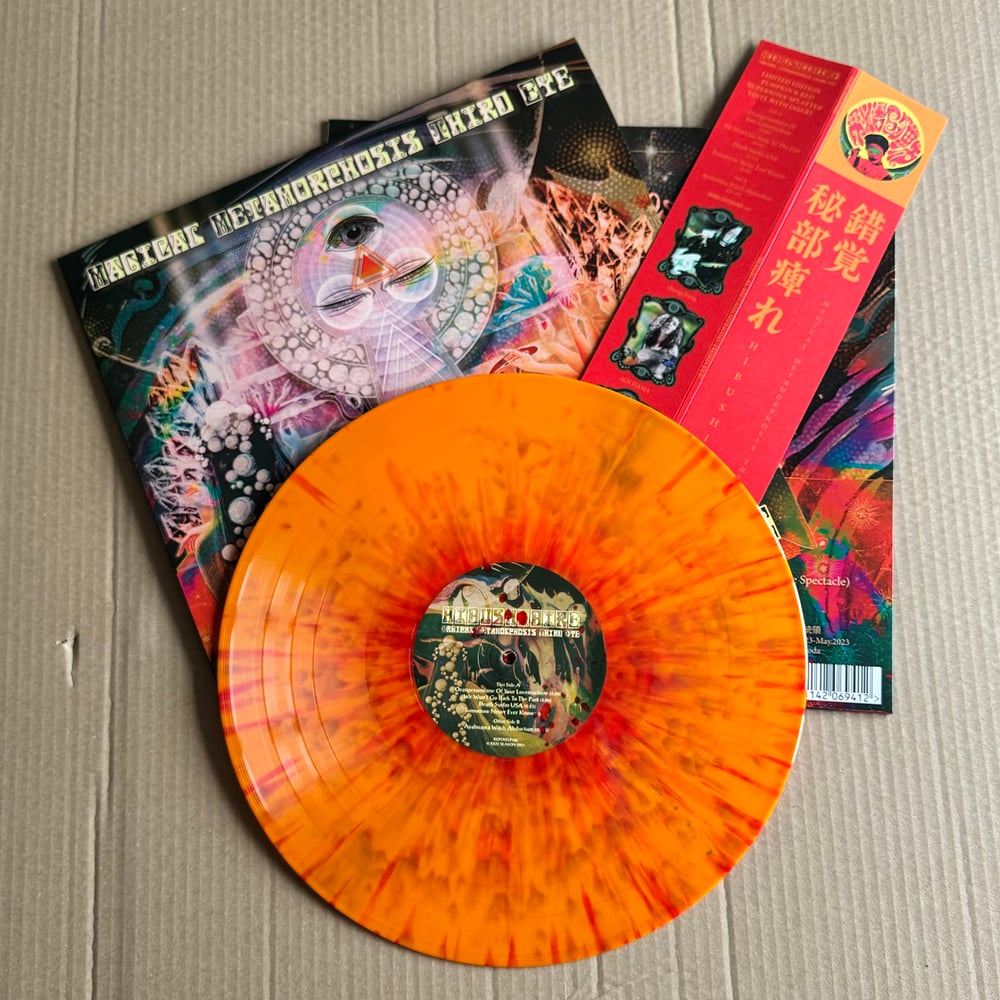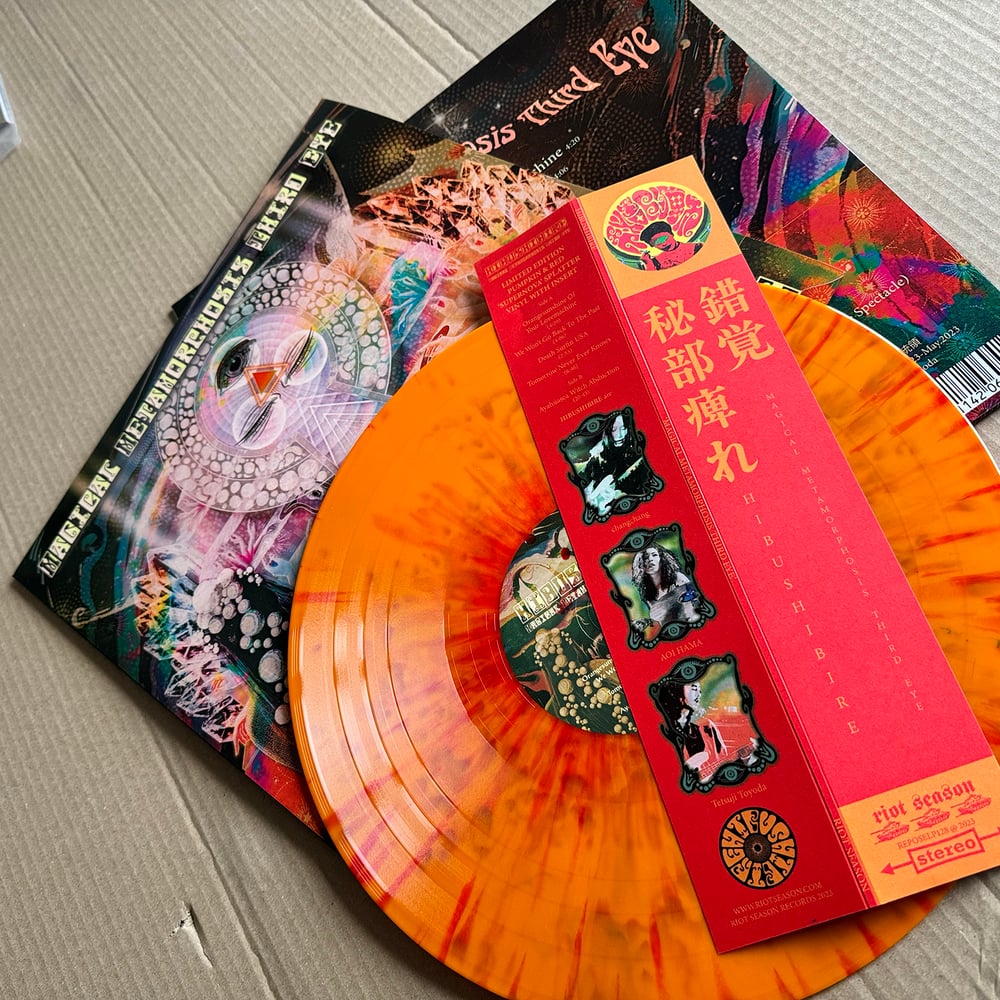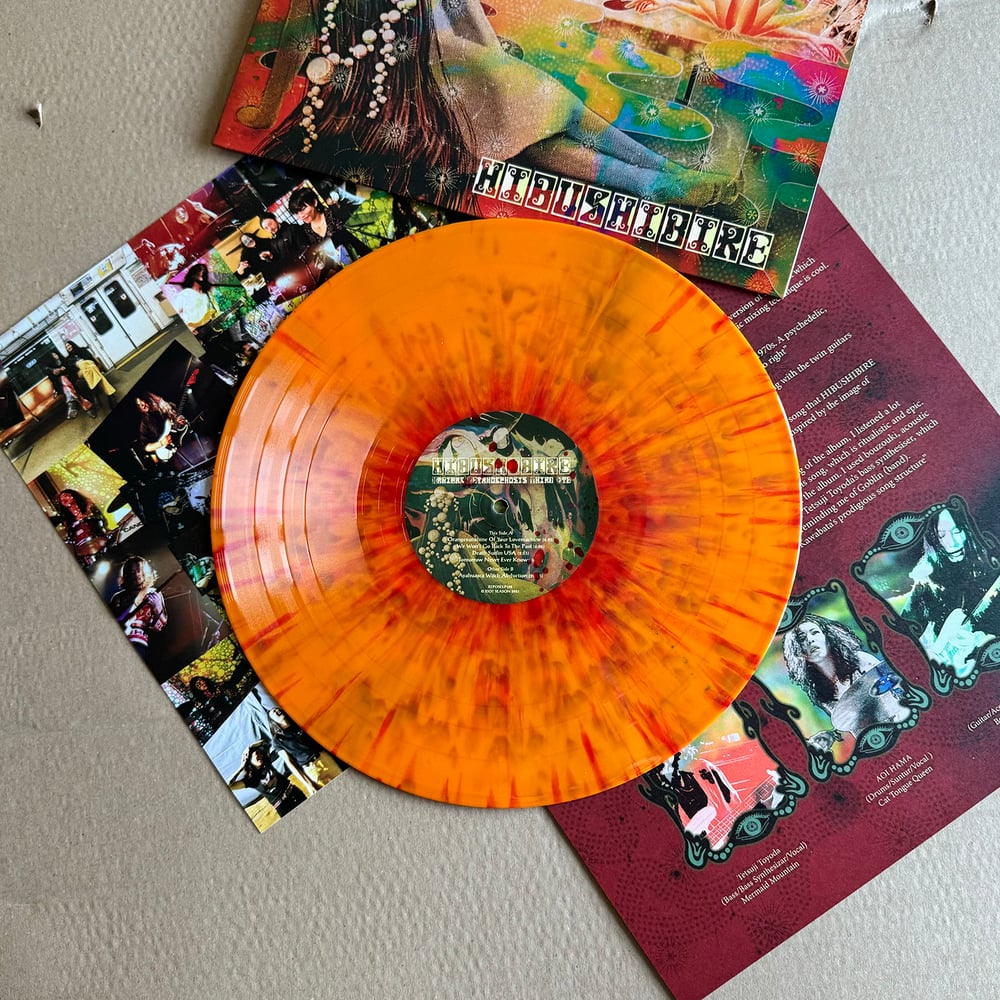 THIS 'SUPERNOVA' PUMPKIN/RED SPLATTER EDITION IS THE LABEL EXCLUSIVE EDITION. I 'MAY' HAVE A FEW EXTRA TO PUT BACK ON SALE ONCE ALL THE PRE ORDERS ARE POSTED OUT
IF YOU ARE BASED IN THE EU, PLEASE READ THE BIG NOTICE ON THE FRONT PAGE REGARDS THE POTENTIAL FOR YOU PAYING TAX/VAT UPON RECEIVING GOODS. I CANNOT DO ANYTHING ABOUT THIS OBVIOUSLY. THAT'S THE LAW.
How to place an order :
1. Click on the 'select option' tab, choose what you want from the list
2. Click 'add to cart', it's now in your shopping basket
3. If you want multiple items, just go to the relevant release pages and add anything else you want to your cart before going to checkout
4. Done adding stuff?, then go to cart, that little trolley thing top right
5. Check out, it's a simple as that
Now i'll get busy packing and posting it.
Thanks! Andy/RS
CUSTOMERS OUTSIDE THE UK PLEASE NOTE : All non UK shipping prices are for standard airmail only. This does not include any tracking or insurance. If you want to upgrade to registered shipping please click on the OPTIONAL REGISTERED MAIL ADD ON (OUTSIDE UK ONLY) to your cart before you checkout and pay for your order. All you need to do is add it to your shopping cart as you would any other item, and that £5.00 will cover the cost of upgrading your order to registered mail.
artist: HIBUSHIBIRE
title: Magical Metamorphosis Third Eye
catalogue # REPOSELP128
format: Vinyl LP (Supernova / Pumpkin & red splatter)
barcode: 5051142069412
LP Tracklisting
A1. Orangesunshine Of Your Lovemachine (4:20)
A2. We Won't Go Back To The Past (4:06)
A3. Death Surfin USA (2:53)
A4. Tomorrow Never Ever Knows (6:46)
B. Ayahuasca Witch Abduction (20:43)
This edition is ONLY available direct from the label here and via the label bandcamp site
This is a label exclusive edition of 300 copies worldwide
OBI strip (fold around the spine style, supplied cut/folded and flat)
Housed in a full colour outer sleeve
Double colour sided insert
Polylined inner bag
Hype sticker
Download code
Blurb:
Osaka three piece Hibushibire return after a long break, with a new line up and a stunning third album.
Following the successes of their debut album 'Freak Out Orgasm!' (2017), the follow up 'Turn On, Tune In, Freak Out' (2019) and two very well received UK tours. The band headed home to Osaka, Japan and then, the pandemic hit.
During this downtime, guitarist/vocalist Changchang decided to create a new power trio. Enter Tetsuji Toyoda (Bass/Vocals) & Aoi Hama (Drums/Vocals). The new trio have spent the last three years writing new music, playing live and honing their sound in Japan, and a short well received tour of Taiwan with Riot Season labelmates Dope Purple. And now finally, Hibushibire mark 2 is born properly.
"Hibushibire has returned after a change of members. A psychedelic, progressive work, suitable for a new beginning"
Entering the studio with Acid Mothers Temple/Mainliner guru Makoto Kawabata in the producer chair once again, the band recorded album number three, 'Magical Metamorphosis Third Eye'. Makoto also adds some of his own trademark guitar howls through out the album, perfectly complimenting Changchang's own growing prowess.
Here the band have taken their trademark psych-rock blasts and blended them perfectly with some more trippy, dare I say sweet psychedelic sounds, which at times echo prime Gong on side two's 20 minutes epic 'Ayahuasca Witch Abduction'
"The idea of this album is based on the theme of "occultism and mysticism". But it's not a serious thing, it's about the things we like (UFOs, pyramids, psychic phenomena, shamanism etc) and we all had fun while making it. In terms of what makes it different from the previous Hibushibire albums, it's where AOI HAMA's vocals are present. I had wanted to use a female vocalist for a long time, so it was a good feeling!"
Like the bands first two albums, 'Magical Metamorphosis Third Eye' is very much an album of two halves. Side one again is full of killer shorter tracks, while side two is reserved for a blinding majestic 20 minute epic 'Ayahuasca Witch Abduction'. Which I can't wait to hear live.
Perhaps the biggest musical surprise here though is probably track two, the beautifully mellow tripped out 'We Won't Go Back To The Past', which sounds like it's been beamed straight out of the late 60s/early 70s
The band also tip a nod to the Beatles psychedelic classic 'Tomorrow Never Ever Knows', but with their own twist of course.
It's clear with the line up changes, Changchang has decided to expand the bands musical pathway, and he's achieve stunning results.
The band plan to return to the UK and Europe in 2024 to see friends old and new.
HIBUSHIBIRE are
Tetsuji Toyoda - Bass / Bass Synthesizer / Vocal (Mermaid Mountain)
Aoi Hama - Drums / Suntur / Vocal (Cat Tongue Queen)
Changchang - Guitar / Acoustic Guitar / Guitar Synthesizer / Bouzouki / Electronics / Vocal (Melting Eye Spectacle)