WHEN DINOSAURS RULED THE EARTH ' Peaced' Vinyl 12"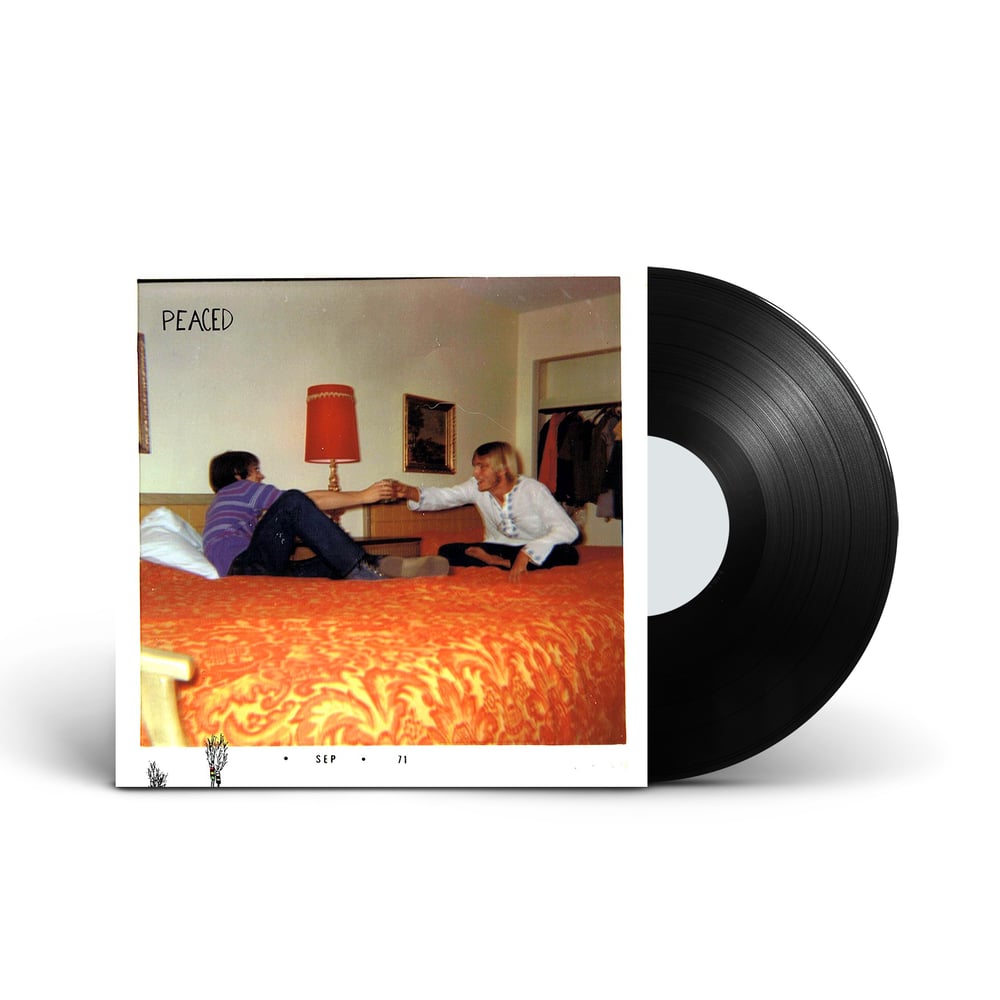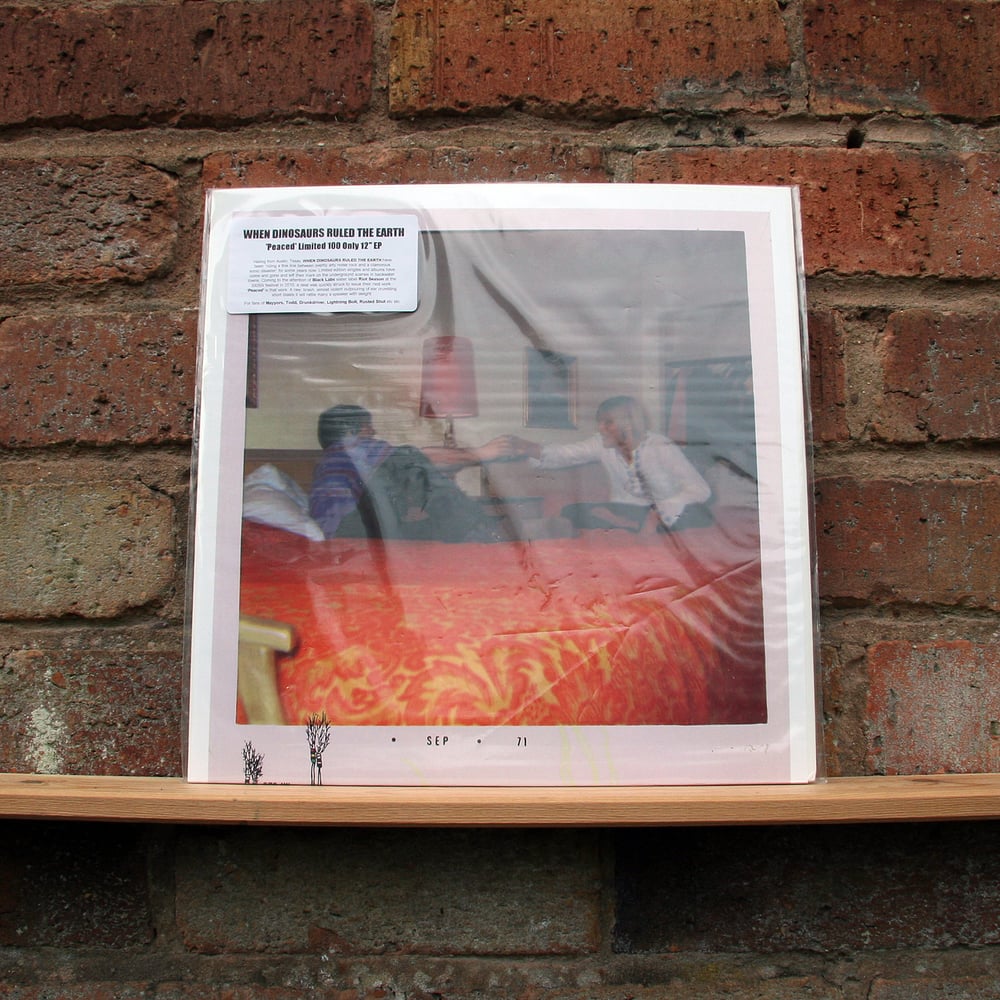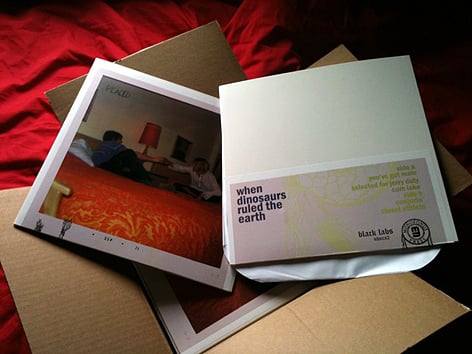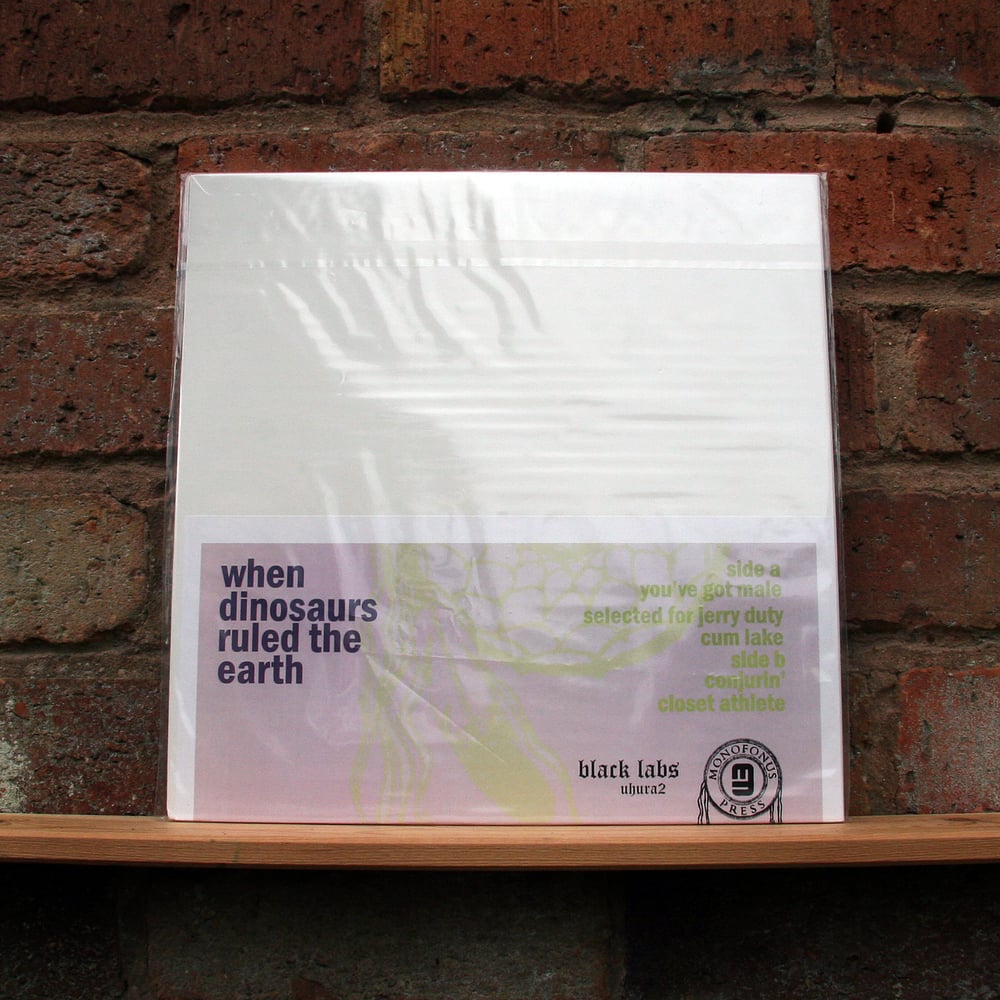 artist: WHEN DINOSAURS RULED THE EARTH
title: 'Peaced'
catalogue # UHURA2
label: Black Labs
formats: Vinyl 12"

12" Tracklisting
A1. You've Got Male
A2. Selected For Jerry Duty
A3. Cum Lake
B1. Conjurin'
B2. Closet Athlete
After much debating and squabbling, the second release on Riot Season sister label Black Labs is in the bag. It's a 5 song 'album' (well mini album, extended EP, call it what you will) by Texans WHEN DINOSAURS RULED THE EARTH.
The record, titled 'Peaced' has been pressed up by the band themselves to sell on their US tour dates this summer, but we've snagged 100 to release over this side of the pond ourselves.
In the bands own words ...
"This album was recorded in our practice space in the month of April 2010. We were very drunk, and very stoned. We've recorded quite a bit of stuff before, but this recording actually captures realistically what we do and how we do it. Cheap, loud, and drunk"
Review:
"Well, I can certainly believe that after having listened to Peaced, the new five song 12" from Austin, TX's When Dinosaurs Ruled the Earth. Some may remember seeing their last album Not Noiice on these very pages a couple or so years ago. At the time I believe there were upwards of around seven people in the band, however they've since brought it down to five. I'm not quite sure having any more members would have changed much about this record anyway, as it's basically a high volume treble heavy blast of noise from start to finish. If this is in fact the way they do things, then I am kicking myself for not finding a way to see them when they rolled through Kansas City a couple months ago. On record, over the last couple at least, they really don't sound much like they do here on Peaced. In fact, this seems to be heading more so in the direction of Expensive Shit, a side project that contains three members from When Dinosaurs Ruled the Earth in which they are pretty much free to indulge in as much noise improv as they please. Peaced probably blurs the lines here a bit more however, still employing traditional riffs underneath a very heavy coating of fuzz, reverb, and maniacal shouting. All five tracks seem to take the same three components and shape them into a noticeably different style however, which for five dudes that had probably completely lost track of time and their whereabouts is fairly impressive in a way. If you're looking for more Texas noise/scuzz, then Peaced is definitely a good place to look."
BUILT ON A WEAK SPOT