MACHIAVELLIAN ART 'Indoctrination Sounds' Vinyl LP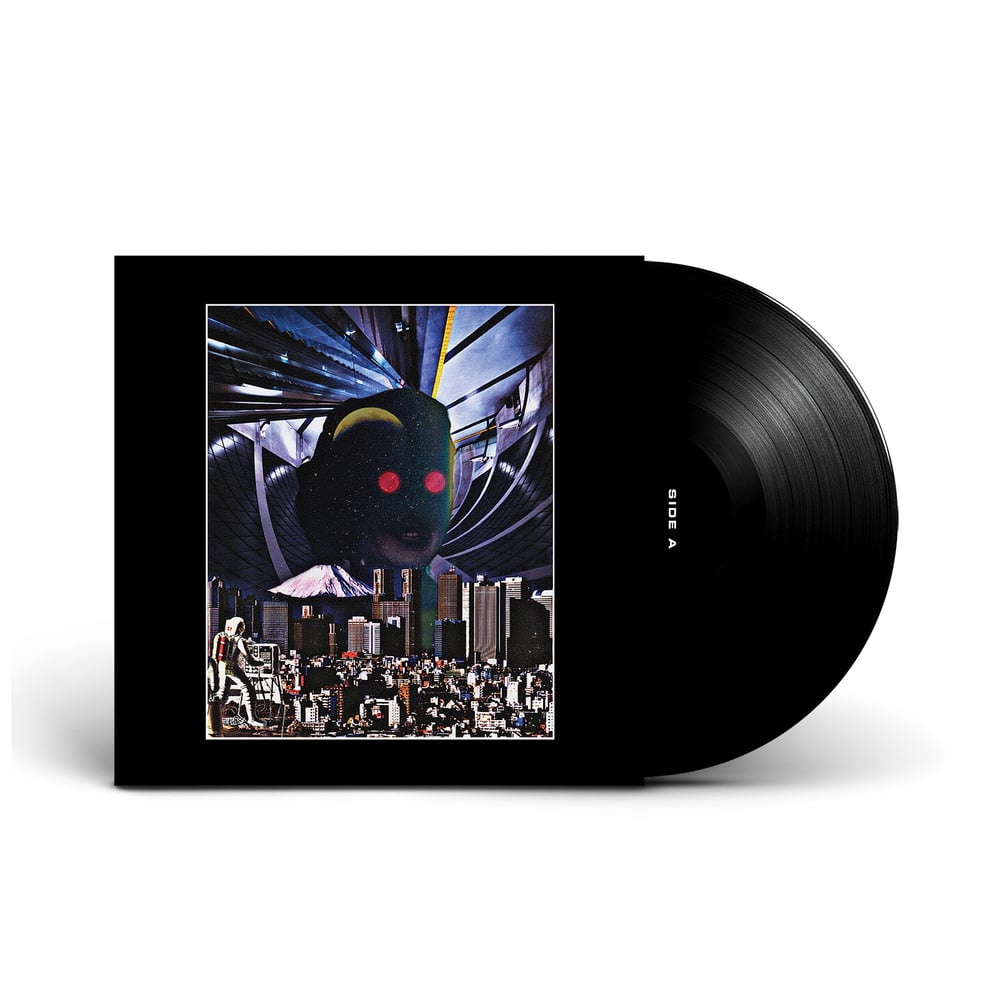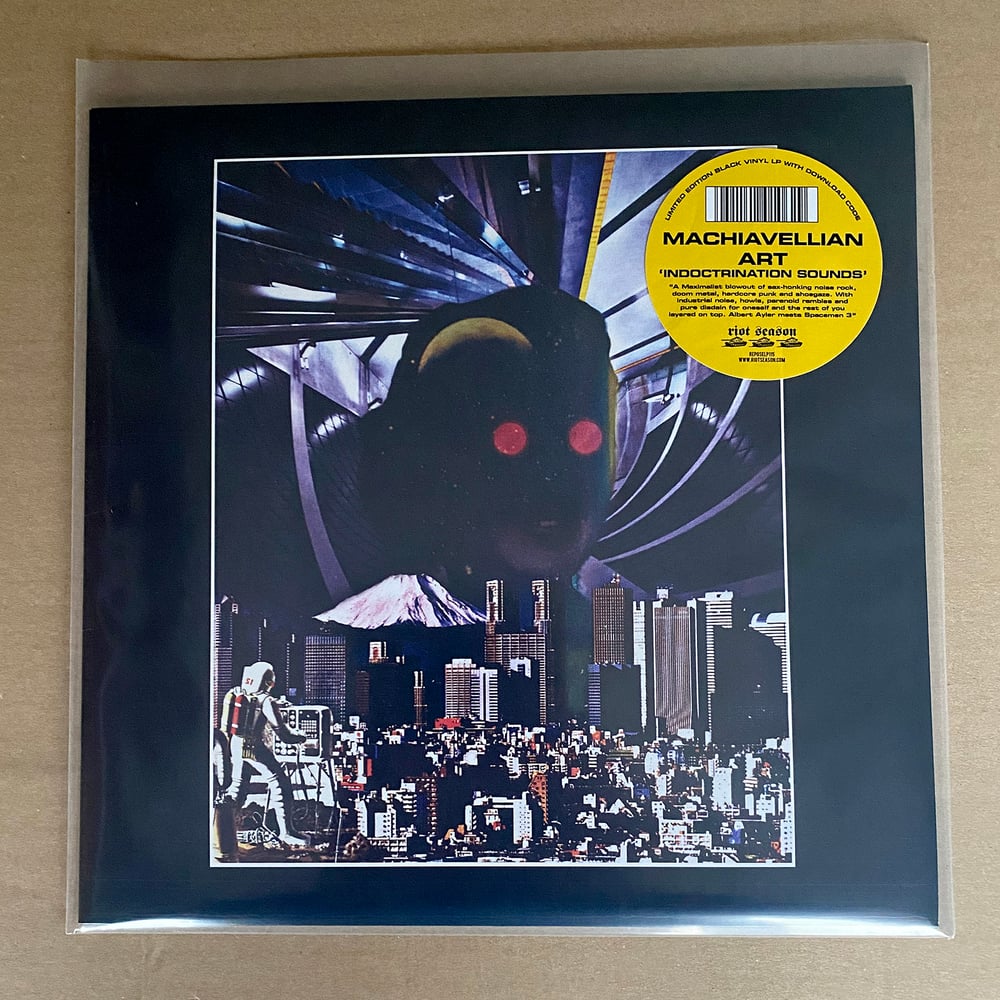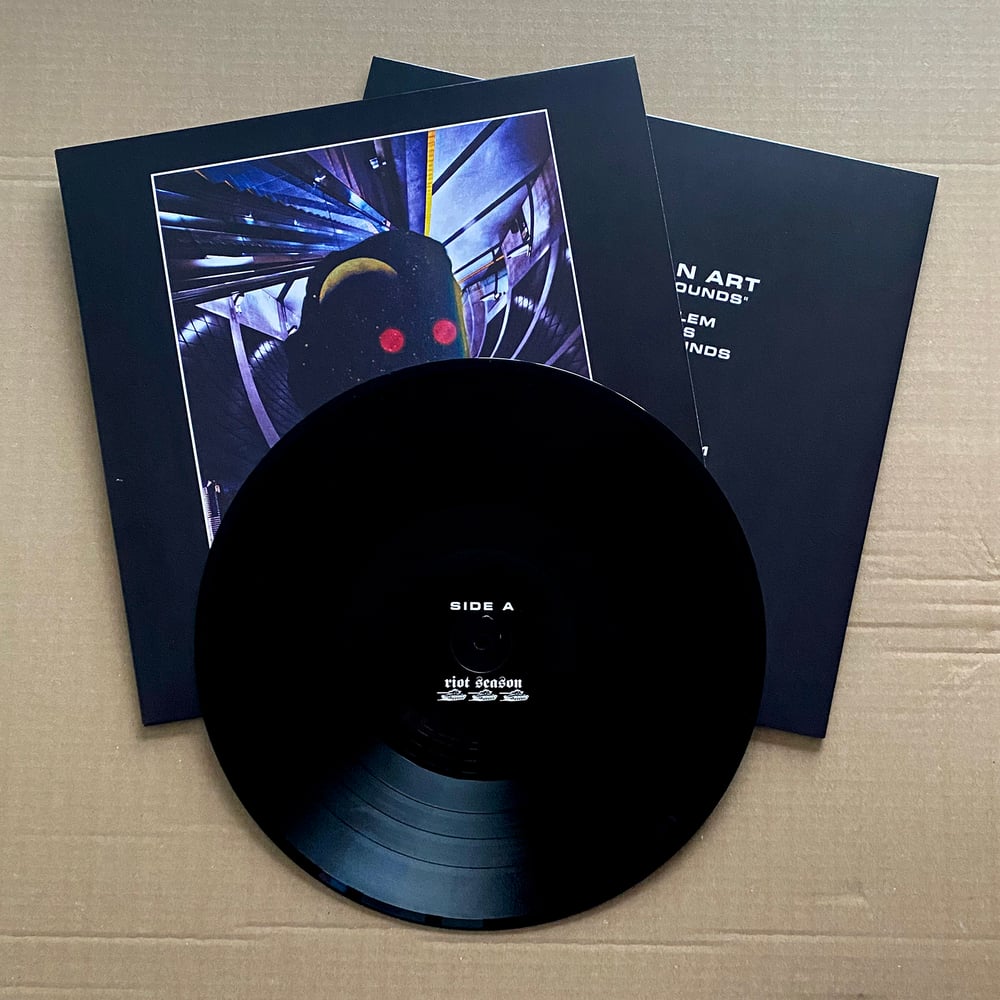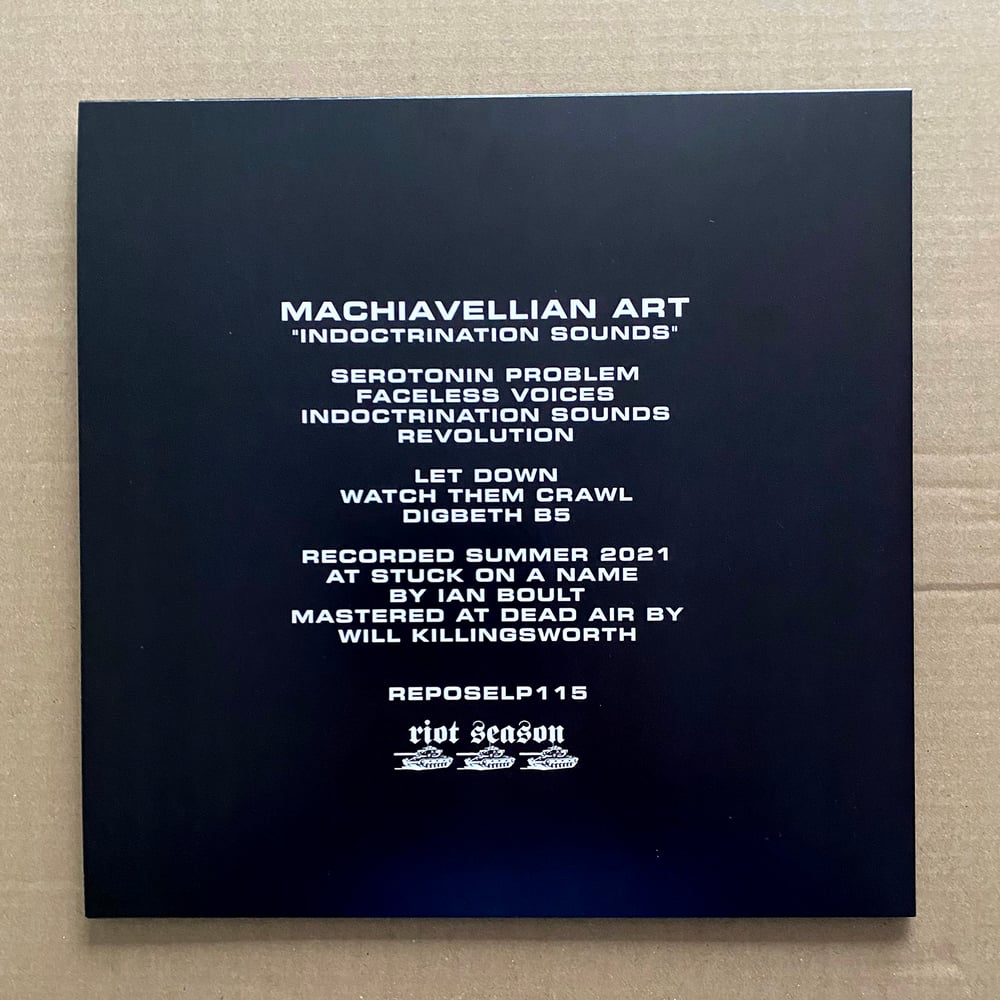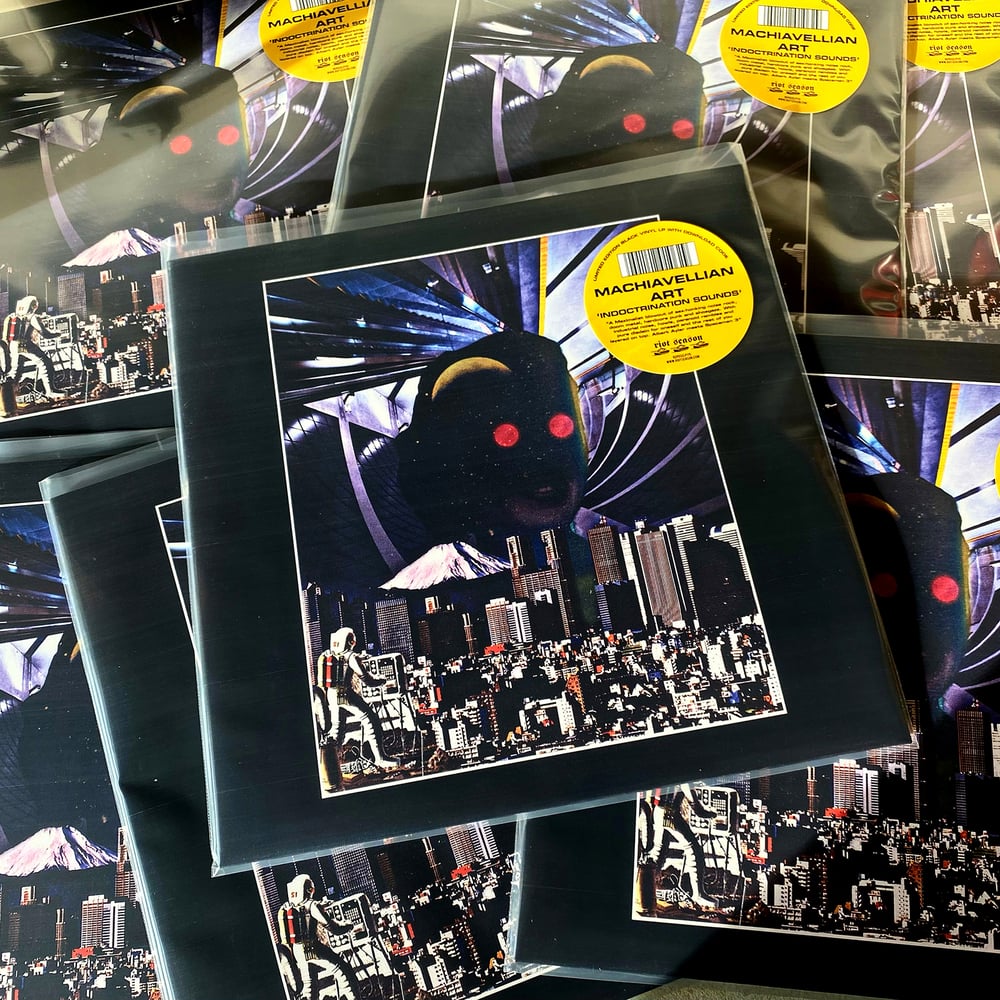 IF YOU ARE BASED IN THE EU, PLEASE READ THE BIG NOTICE ON THE FRONT PAGE REGARDS THE POTENTIAL FOR YOU PAYING TAX/VAT UPON RECEIVING GOODS. I CANNOT DO ANYTHING ABOUT THIS OBVIOUSLY. THAT'S THE LAW.
How to place an order :
1. Click on the 'select option' tab, choose what you want from the list
2. Click 'add to cart', it's now in your shopping basket
3. If you want multiple items, just go to the relevant release pages and add anything else you want to your cart before going to checkout
4. Done adding stuff?, then go to cart, that little trolley thing top right
5. Check out, it's a simple as that
Now i'll get busy packing and posting it.
Thanks! Andy/RS
CUSTOMERS OUTSIDE THE UK PLEASE NOTE : All non UK shipping prices are for standard airmail only. This does not include any tracking or insurance. If you want to upgrade to registered shipping please click on the OPTIONAL REGISTERED MAIL ADD ON (OUTSIDE UK ONLY) to your cart before you checkout and pay for your order. All you need to do is add it to your shopping cart as you would any other item, and that £5.00 will cover the cost of upgrading your order to registered mail.
artist: MACHIAVELLIAN ART
title: 'Indoctrination Sounds'
catalogue # REPOSELP115
format: Vinyl LP (Black)
UPC# 5051142010629
shop release date: February 24th 2023
LP Tracklisting
A1. Serotonin Problem (5:22)
A2. Faceless Voices (3:16)
A3. Indoctrination Sounds (2:48)
A4. Revolution (3:46)
B1. Let Down (2:38)
B2. Watch Them Crawl (2:12)
B3. Digbeth B5 (5:17)
West Midlands five piece MACHIAVELLIAN ART follow up their self released and self titled cassette only album with their first release proper, 'Indoctrination Sounds' released February 24th via Riot Season Records.
A Maximalist blowout of Sax-honking Noise Rock, Doom Metal, Hardcore Punk, and Shoegaze, with Industrial Noise, Howls, Paranoid Rambles, and pure Disdain for oneself and the rest of you layered on top.
Indoctrination Sounds was conceived in various practice spaces in Digbeth throughout 2020 and 2021 and recorded at Ian Boult's Stuck On A Name Studios in Nottingham in the Summer of 2021, despite the best efforts of a global pandemic. Will Killingsworth mastered the record at Dead Air Studios.
Serotonin Problem opens the record with a huge sludge bass riff before the rest of the band pile in on top to create an all-encompassing and oppressive low mood that continues for the rest of the album. Next, we spiral down into the more open and atmospheric post punk of Faceless Voices - the collective bad feelings of a nation in decline reach boiling point. Indoctrination Sounds, for which the record is named, is a hardcore punk song regarding the clear and easily understood ways that humanity in the Western World is indoctrinated into the death-cult of capitalism under fear of violence, soaked in misinformation and conspiracy. Revolution is a call to action as guitars shift and glide uncertainly around, in a menacing inversion of shoegaze's dreamy safety. Side A is finished - a brief respite.
Side B opens with the more introspective Let Down, as the band play out a pounding homage to Iggy and the Stooges with Fenriz taking a turn on the drums. The drum intro to We're Not Gonna Take It gives way to a Rusted Shut bassline as the band turns their disdainful gaze to the violent pornography that is the 24-hour news cycle and reality TV in Watch Them Crawl. The album closes with Digbeth B5, an improvised piece on the gentrification of Digbeth. During the pandemic one of the band's practice spaces was turned into an overpriced ping pong bar for yuppies. As our culture is softened and cleaned up to make profit, so are our communities and cities.
Machiavellian Art are
Amy Murphy - Bass Guitar
Benjamin Thomas - Vocals and Saxophone
Joe Parkes - Guitar and Noise
John Andrews - Guitar and Vocals
Sam Hunt - Drums
'Watch Them Crawl' video Directed by Andrew Northrop