SHIT AND SHINE 'Cherry' Vinyl 2xLP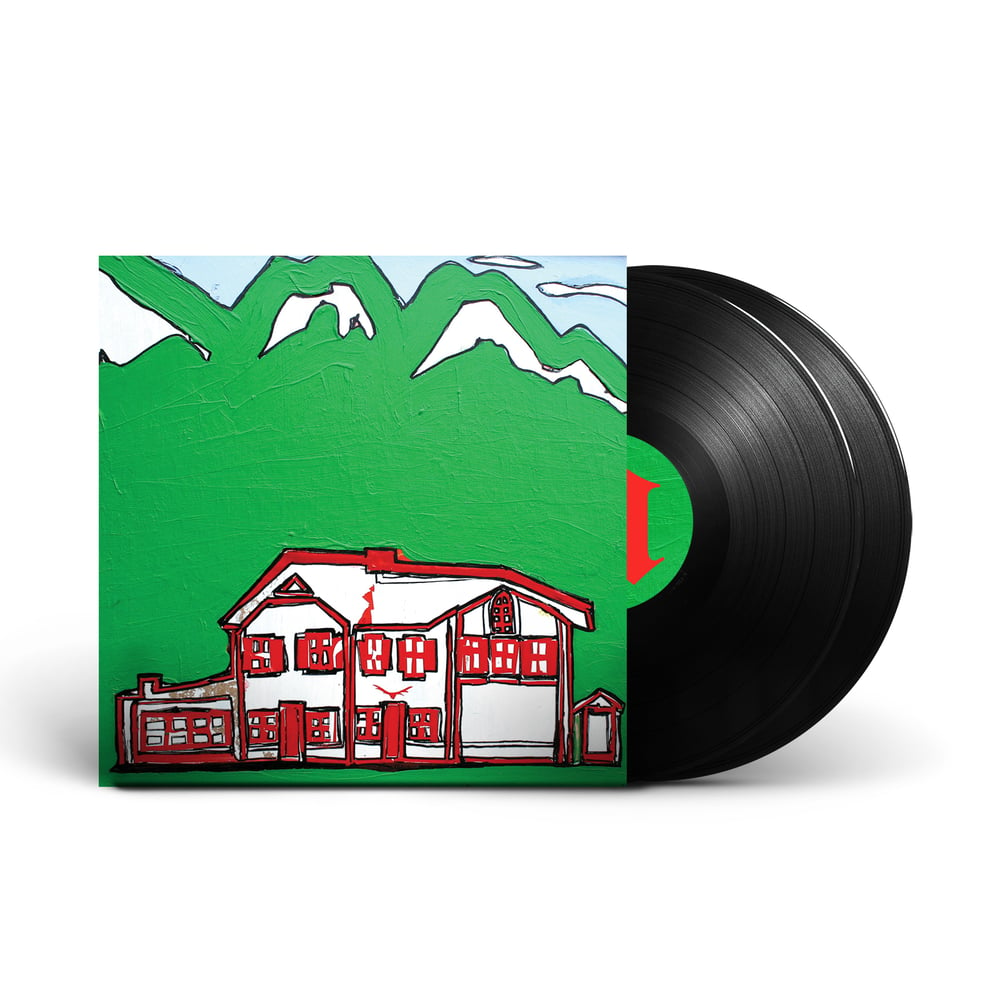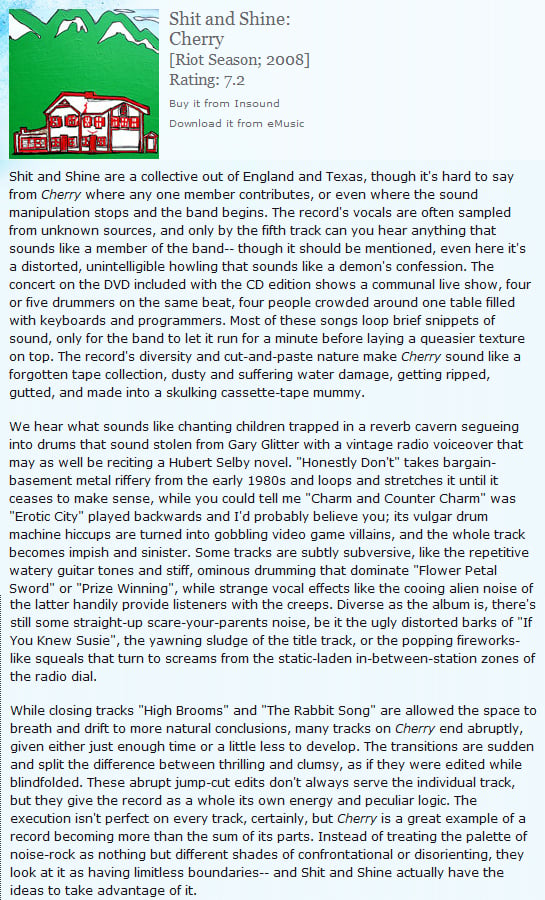 artist: SHIT AND SHINE
title: 'Cherry'
catalogue # REPOSELP017
formats: Vinyl 2xLP
2xLP Tracklisting :
A1. Creepy Ballerina (1:08)
A2. Am I A Nice Guy ? (7:58)
A3. Honestly Don't (1:54)
A4. Danielle (1:44)
A5. Charm And Counter Charm (5:16)
A6. If You Knew Susie (1:12)
A7. Flower Petal Sword (2:11)
B1. Prize Winning (3:26)
B2. Sharlade (2:10)
B3. Cigarette Sequence (5:23)
B4. Cherry (5:02)
B5. Shockwave (1:18)
C. High Brooms (14:52)
D. The Rabbit Song (20:33)
Release Info :
Shit and Shine isn't a band, it's a state of mind.
They're an afternoon spent tearing up betting-slips at the bookies. A stain on your shirt that won't wash out. Shit and Shine refuse to be categorised, commodified or caught with their trousers down.
They're a blurred snapshot of bi-polar Britain, camera-phone footage of a nation that's slowly swallowing itself whole, one mouthful at a time. They're a requiem for back-street cafes and grubby little places that now only exist in our memory or in back-issues of Savage Messiah magazine. They're a brittle, defiantly distorted soundtrack to our own cultural demise: time at the bar, gentlemen, please!
Shit and Shine don't make records, they make accusations, threats and intimidating phone-calls. Albums sell out in a day or maybe they were never even released. Press-releases come with grainy, badly photocopied pictures of band-members, their faces resembling some freakish Fotofit identity parade, while YouTube is awash with dodgy-looking live clips shot in cellar-bars or at some Argentine Noise fest.
Their new album "Cherry" has been deliberately released to coincide with the clocks going back. It's a sullen, grimy and spiteful LP, full of piss and vinegar and drums. Imagine an after-pub punch-up in A&E with the Burundi Drummers, or the Butthole Surfers if they had gone to primary school in Harlesden. It's petty, vicious stuff and, like its magnificently delinquent predecessor, "Jealous of Shit and Shine," it's available from the ever-reliable, forward-thinking Black Country label Riot Season.
"Cherry" is a treasure-trove of dark, malignant delights that finds the band augmenting its trademark Neo-Brutalist sound with a whole bunch of unexpected textures:
"Charm and Counter Charm" is the sound of Funk turned evil…George Clinton's mother-ship abandoned and covered in graffiti in some wasteland in Moss Side. Bootsy Collins smoking the crack equivalent of green kryptonite, chasing imaginary maggot-brained booty and smurf-voiced machine-elf ho's.
"Prize Winning" is the Glitter Band banged up on a trumped-up drug-smuggling charge in some nightmarish, dysentery-riddled Vietnamese jail. At night, Gary's disembodied voice talks to them from the toilet-grate through a haze of malarial fever and hashish.
"Sharlade" is the theme-tune to Celebrity Big Brother played by gibbons, while "Cigarette Sequence" attaches contact-mics to yer teeth and carries out a series of unnecessary root-canal treatments.
"High Brooms" is an epic sludge-out: a slow, low-end duel-to-the-death involving guitar, organ and narcoleptic drums that invokes the spirit of John Cale's early 60s Vox Continental drone-musik on "Sun Blindness Music." It'll also have fans of Spacemen 3, Sunn o)), etc weeing themselves with pleasure.
Of course, no Shit and Shine album would be complete without at least one side-long, drum-bludgeoning monster-truck of a track. "The Rabbit Song" arrives like a really bad case of OCD or a documentary on horse-ripping, but with a riff to die for. Children are born, families split up, people wash their hands til they bleed, then wash them some more. But still the band plays on: through rain, snow, hell and high-water. Cats die and dogs copulate. But the band are unstoppable - a force of nature - pausing only to bicker and bitch at each other mid-song through megaphones. When it finally finishes, it's both a relief and a jarring loss. Like the death of a family member after a long, unpleasant illness.
Yet, inexplicably, you find yourself reaching for the Replay Button: it's a scientifically proven fact that Shit and Shine are more addictive than Christopher Lee lottery scratch-cards.
"Cherry" is a full-on essential purchase for anyone who's ever loved raw Outsider Music, Free Noise, Hardcore Punk, Barbarian Rock or underground experimental shit of any size, shape or hue. Trust me, it's a total gotta-have for Doom Metallers, Sludge Addicts, Japrock Fetishists, Xtreme Drone Geeks or anyone who ever chased a rabbit down a hole.