PIKACYU*MAKOTO 'OM Sweet Home' CD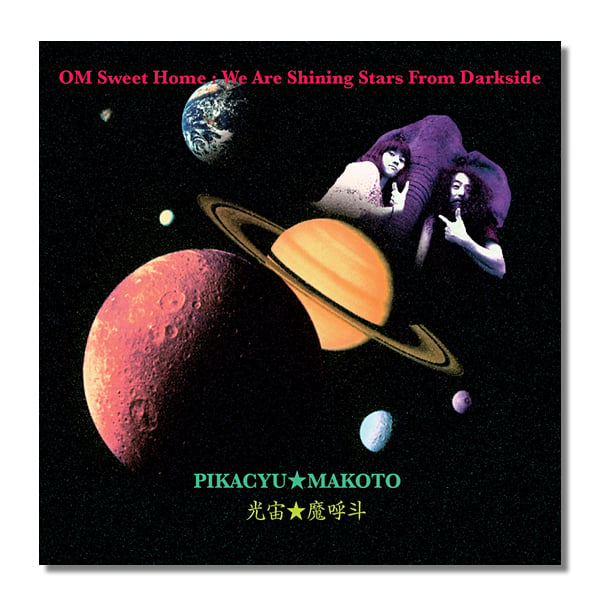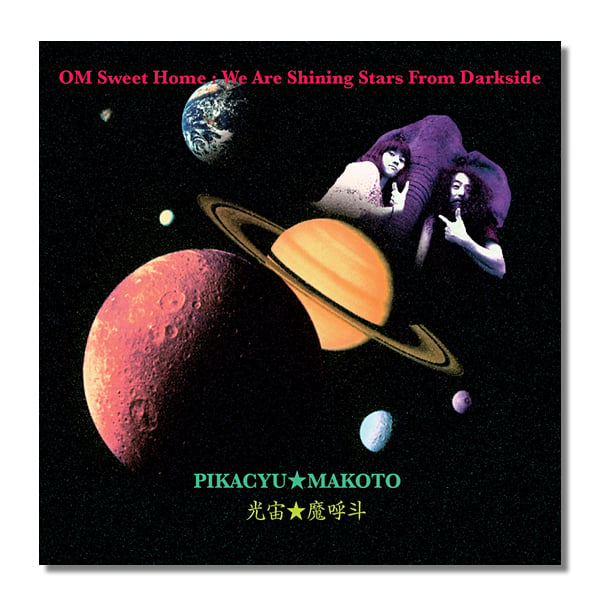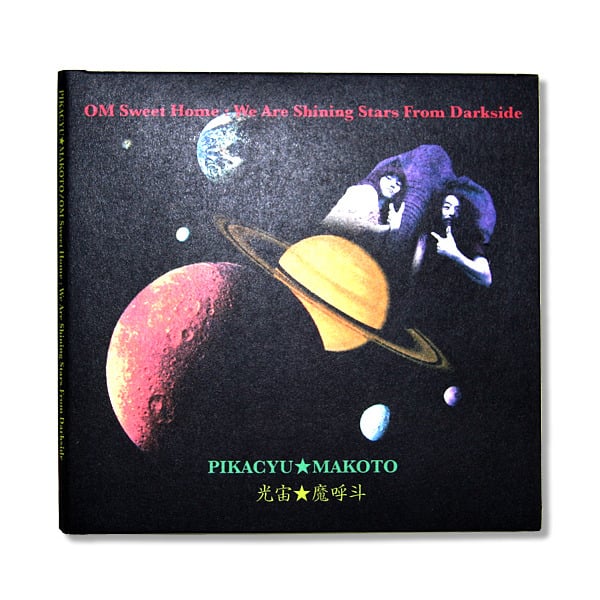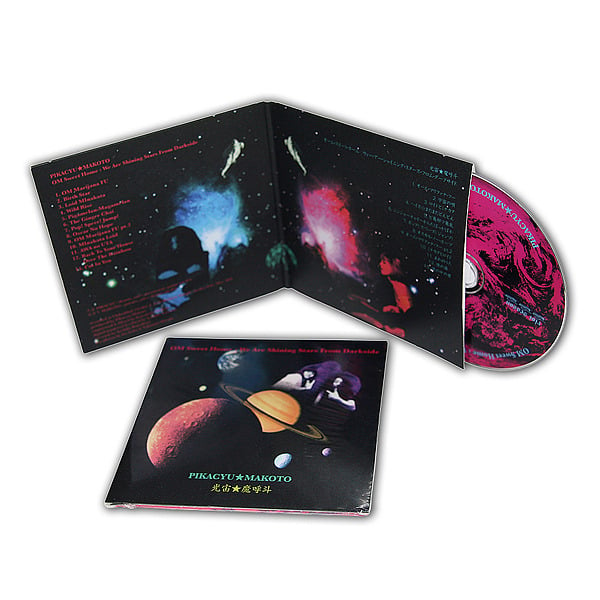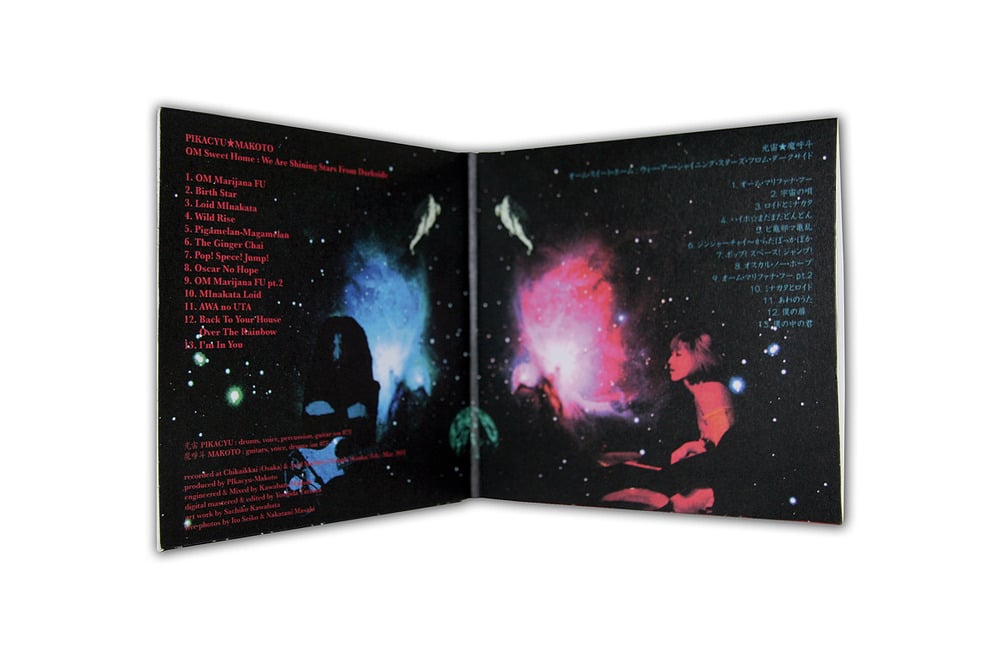 artist: PIKACYU*MAKOTO
title: 'OM Sweet Home : We Are Shining Stars From Darkside'
catalogue # REPOSECD027
formats: CD

CD Tracklisting :
1. OM Marijana FU? (2:02)
2. Birth Star (9:48)
3. Loid MInakata (1:27)
4. Wild Rise (6;20)
5. Pigamelan-Magamelan (2:03)
6. The Ginger Chai (7:15)
7. Pop! Spece! Jump! (1:07)
8. Oscar No Hope (0:25)
9. OM Marijana FU pt.2 (5:05)
10. MInakata Loid (2:43)
11. AWA no UTA (3:59)
12. Back To Your House Over The Rainbow (11:47)
13. I'm In You (1:46)
extra info: all orders come with a free exclusive live download set. this will be sent as a zip file via email. special first edition 1000 only shrink-wrapped CD packaged inside a 350gm gatefold card sleeve with reverse board printing
"This album is the story about the cosmic shaman Pikacyu vs the master of the darkness Makoto ... including the full of love from the universe!" ...
Release Info :
PIKACYU*MAKOTO is an alliance between two figureheads of underground Japanese psych/pop, the musically promiscuous Kawabata Makoto (most famous for his leadership of the legendary Acid Mothers Temple), and Afrirampo's Pikacyu.
No strangers to one another, the pair have not only gigged together with their respective bands but also recorded together, when these two outfits temporarily fused in 2005 to become Acid Mothers Afrirampo (releasing an album of the same name). Now they have distilled their collaboration, all other players being stripped away to leave the core of Pikacyu's manic drums and vocals, and Makoto's schizoid guitar conjurings.
OM Sweet Home: We Are Shining Stars From Darkside is unlike anything either culprit has produced before, both structured and freeform, tuneless and beautiful. Pikacyu's drums pummel, jitter, crash and stumble, but steadfastly refuse to groove. She layers her voice several times, competing with maniacally pitch-shifted versions of herself to bring you what is, in their words, "a story about the cosmic shaman Pikacyu vs the master of the darkness Makoto... including the full love from the universe!!". Makoto attacks his guitar, cloaking himself in reverb to produce a wall-of-sound, alternating between melody and noise.
The record's opening gambit, the acapella "OM Marijana FU", resembles field recordings of a gang of lady monks doing chants in the monastery, played back on dying tape walkman. Then you're thrown straight into the deep end of one of the album's epics - "Birth Star". Those holy women are joined by propulsive drumming, each guitar chord leaving contrails that weave together in a cathedral of reverb, forming a tapestry of noise that threatens to clash but never does. In the frenetic "Wild Rise" the Western listener, ignorant of the language is eventually left with the impression of wordless chants tapping wells of emotion that lie beyond the reach of vocabulary.

The instrumental "Pigamelan-Magamelan" on the other hand represents a total gear shift, its dry sound, attack-laden guitar runs and avoidance of time signature invoking the exploding-note theory of Captain Beefheart. The players' behaviour appears unpredictable to the outsider, but like play-fighting dogs they magically pause and resume simultaneously, suggesting the presence of a logic known only to the protagonists.
"Minakata Loid" brings drums reminiscent of early Four Tet, while the guitar emits high-pitched detonations from the far-end of an empty auditorium. "Back to Your House Over the Rainbow" exposes the knife-edge of Pikacyu's most extreme vocalisations, sounding like the yodels of a spirit trying to escape its own skin (while Makoto calls up the spirit Sonic Youth's Turquoise Boy).
OM Sweet Home will be released in June in a limited run of 1000 copies, packaged in a 350gm card gatefold sleeve. It is a serrated listen; a freeform assault; a crashing wash of expressive noise. This is a record in which all the building blocks of mainstream music are overridden by sheer force of expression; soothing melodies are rendered cutting by vehemence, beautiful guitar runs are needled by attack, and the lack of bass removes this music from the arena of the dancefloor, elevating it to some other plane inhabited by seekers of the healing power of noise.