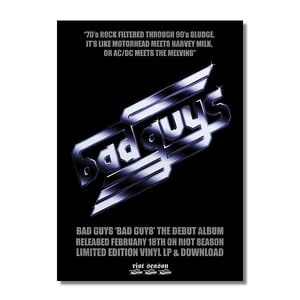 £

3.00
PLEASE READ BEFORE BUYING: Please DO NOT order this poster (or any other poster) with any other 'non poster' item, as they have to ship separately in a postal tube. If you order a poster with any other item, such as a vinyl record or CD. The poster WILL have to be folded.
The postage cost for this item is calculated to be sent separately in a poster tube only. You can of course order several posters and have them all sent in one tube. Thanks
This poster is a professionally printed glossy A3 colour poster made to promote the album upon release. Some were given away free with initial orders of the LP. These are leftovers found during recent office clear out. They have some minor corner creasing hence price
Limited quantities.