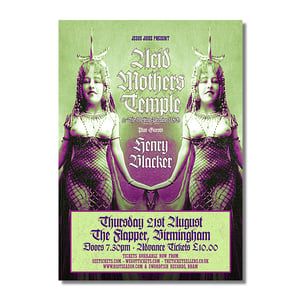 £

3.00
PLEASE READ BEFORE BUYING: Please DO NOT order this poster (or any other poster) with any other 'non poster' item, as they have to ship separately in a postal tube. If you order a poster with any other item, such as a vinyl record or CD. The poster WILL have to be folded.
The postage cost for this item is calculated to be sent separately in a poster tube only. You can of course order several posters and have them all sent in one tube. Thanks
Limited quantities.
Special one off A3 sized professionally print poster made for the Acid Mothers Temple / Henry Blacker gig at the Birmingham Flapper August 21st 2014.